It's Jerzday, everybody! Jersey Shore fans, rejoice!
Who would have ever thought we would  be so lucky to have another "T-shirt time" with the crew again, especially six years after the final season aired. Well, we can thank MTV for making our reality TV dreams come true by blessing us with this reboot.
Because it's been so long since we've genuinely seen the party animals in their natural habitat, we have to stay up-to-date with their lingo. Their acronyms and phrases are memorable and are a huge part of what made the show so entertaining.
So, let's go down memory lane and reflect on some of their terminology for tonight's premiere, shall we?
Fist Pump
A popular dance move commonly used by all Jersey Shore cast members, where you flex your arm high in the air and pump it to the beat of the music.
Beat Up the Beat
As commonly used by Vinny, it's an elaborate version of the "fist pump" where you bring the pump from the ground all the way up to the roof.
DTF
An acronym for the words "down to f*ck." It's a simpler way to refer to when someone's interested in having sexual activities.
Grenade
A grenade is a "fat, ugly woman" (as defined  by Mike "The Situation") who could become explosive at any given moment if not treated the right way. There are several other forms within the 'Grenade' term as well.
Grenade Launcher –

An even uglier girl who you only bring along to make the real grenade look better by comparison.

Atomic Bomb –

The most deadly (and ugliest) type of grenade.

Landmine-

 The skinniest of the grenades.
Smoosh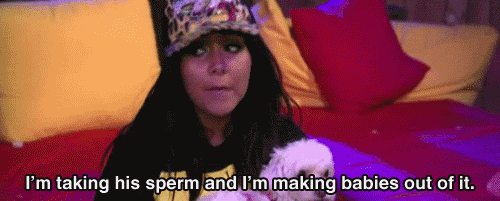 Snooki's favourite way to refer to sexual activities.
Gorilla/Juice Head
The type of Guido Guidettes tend to want when looking for someone to smoosh. It means he is tan, is so jacked he has a hard time putting his arms down (gorilla) and on steroids (juice head). Ronnie is the perfect description of a Gorilla/Juice Head, and both Sammi and Jwoww tend to go for this kind of person.
Jersey Turnpike
Similar to grinding, it's when a woman is bent over and dancing sexily on a man while doing some sort of exotic arm movements. Deena proudly showcases this signature dance move regularly.
Blow Out
A type of hairstyle popularized by Pauly D. It's a hairspray, gel and blow-dried type of style that typically takes him "20 minutes" and "never moves."
GTL
Gym. Tan. Laundry. Otherwise known as the mantra of the Jersey Shore housemates and a daily routine before they hit the club to pick up some ladies.
Fresh to Death "Fresh to Death" is Pauly D's way of describing how good he wants to look when he goes out in public.
Stalker
Someone who follows an individual in a creepy way in the hope of earning a "relationship" title.  Danielle, the girl who followed Pauly D around the boardwalk in multiple seasons, is known as "The Stalker."
She's Too Young for You, Bro
In order to decide if one could proceed to smoosh someone, they must think of ways to determine if their prospective "smoosh partner" is eligible or not. Vinny took this very seriously by proclaiming "She's too young for you, Bro!"
Kooka
A more fun way of saying "vagina." Snooki frequently uses this word.
Meatball
A fun-loving woman who loves alcohol and having a good time. Typically short and enjoys dancing while she is extremely drunk. Deena and Snooki fit the description of a "Meatball" to a T.
Staten Island Dump/Dirty Hamster
Mike "The Situation's" insulting nicknames for former castmate Angelina.
MVP
Mike. Vinny. Pauly. An acronym for the iconic trio when they go out.
T Shirt Tiiiimmmmmeeee
The moment before going to the club where you switch from your shirt (typically a white tank top) to the shirt you will wear to the club.
I would like to give an honorable mention to other phrases that we know and love that don't need a definition because they are just that epic.
"Cabs are here!"

You just read that in Pauly D's voice, didn't you?

"Fist Pump, push up, chapstick!"

The foreign version of GTL, used when the cast was in Italy to mock the locals for trying too hard. Ah, the memories.

"Staahp!" RAAAHHHNNNN.

I'm going to miss Sammi this season.
This season is going to be epic, full of awesome throwbacks and new drama we will love. Although only a few members of the house are still single, I can't wait to see the damage they will do back in Miami with so few wingmen available. Will they get too drunk to function? Will they embarrass their kids  one day with this footage? We'll all see tonight at 10 PM, a.k.a T-SHIRT TIME!
Featured Photo via MTV's Jersey Shore.