We're only a week away from the premiere of the new Jersey Shore season and I cannot be more excited for their first official t-shirt time. It's been a long time since we've seen the crew get their GTL on but we know exactly what that's like to have a wild night out, since we're finally old enough to party like they did when it first aired.
In fact, the show has told us the typical story of going out time and time again.
The pre-drinking begins and you and the girls are getting ready, like always.
There's always a discussion about boobs somewhere along the line.
And there's always that one person whose running around frantically trying to find something to wear while everyone is talking.
Then the discussion about what happens if someone see's their ex and his new girl.
And one random girl is off to the side like this because she is going too hard.
Once you all are ready, it's time to take a group shot for Instagram or the Snap Story.
And while waiting for your Uber, you and your friend catch someone else in the friend group throwing shade about someone in the room and literally no one heard it but you two.
And as you take your last group shot before you leave, you proudly brag to your friends about how well you hold your booze compared to them…
Next thing you know your Uber finally comes after waiting for what feels like eternity…
And while you wait in line you practice your dance moves with your friends to prove you can get some hunnies.
And it's time for you to go inside.
And you are ready to get the hunnies.
But someone has to break the seal, so you all run to the washroom, and bump into random girls. Except, they aren't the talkative, lovable and supportive kind you normally find in the ladies room.
https://giphy.com/gifs/jersey-shore-grenade-pauly-d-3bEF4SlJl9tVm
Then one of your girls go at her…
And your friend who just started a fight and is looking at you to join in…
That's when you just think…
And in the mental debate of if it's time to help her, you also think…
Thankfully the grenade defuses, and go downstairs to find some random guy in a costume or a creepy dude all up on your friend and she's lost the ability to care.
https://giphy.com/gifs/jwoww-tFfUsCIfaVa7K
And you're just looking from afar like this…
As time passes you don't care anymore and get so drunk you don't even know what song you're listening to or how to even dance anymore…
https://giphy.com/gifs/jersey-shore-urLMaMrjEunzW
And the dancing gets worse…
So the mom of your group has to intervene like always.
But you don't care because you have killer dance moves and cannot be tamed.
But once you find a hot guy and he doesn't want to dance with you, you just become hurt and go into a depressed and desperate state of mind.
And right when you're in the middle of having a blast, your drunkness really hits you.
And you're starting to see some things you can't believe are happening right now.
So you call an Uber and have to round the troops.
Then as you leave you see the f*ck boy that broke your friend's heart so you have to give the loser what he deserves while you still have the opportunity.
And it's a struggle to get to the cab because one of your friends can't even walk.
https://giphy.com/gifs/drunk-partying-clubbing-zLBB3NqoeF7yg
So you just have to make sure no one gets hurt or arrested in the 20 steps from the door to the Uber.
The ride is still lit… Or boring depending on who you get stuck with.
And suddenly you feel like the smartest person on the earth.
And then an argument between two people in the group and everyone just wants to go to bed.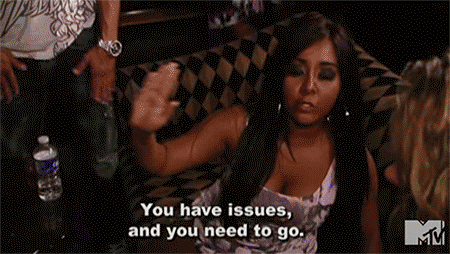 So you cry yourself to sleep because you are a hot and ugly mess.
https://giphy.com/gifs/crying-upset-hL6ThHtqyfbI4
Waking up the next morning, you feel like an ugly llama once you see yourself in the mirror.
Then the debrief of the events from the night before start and someone reveals some drama you didn't know happened.
When you and a friend finally talk about the random fight you got in last night and are still slightly unimpressed by what they did so you have to try and get over it.
Then realizing that you really did have a weird night out.
https://giphy.com/gifs/jersey-shore-snooki-TSDwbE5jQp5n2
But remember how much fun you had regardless of how messed up and ugly it got.
And you'll vow to never change.
The new season of Jersey Shore premieres Thursday, April 5th at 10 pm on MTV. See you there, guidos and guidettes lovers.
Featured image via Jersey Shore on Instagram