I have said it once and I'll say it again, I'm a feminist. Most of you think that being a feminist means being an angry bitch and wishing death upon the male species, but contrary to popular belief, feminism can just be the simple belief in women. Feminism doesn't have to be this intimidating ideology that we are burning bras because we deserve equal pay and rights; It can also be the simple belief that a woman can do anything a man can do and that we should support one another. Standing behind all women and promoting them to find their own voices. Motivating them to stand up for what they believe and encouraging them to strive for their dreams. With that being said, I watched an extremely powerful and moving feminist movie over the weekend called Hidden Figures.
I know I'm a little behind the movie game, considering the Hidden Figures came out in 2016, but if you are like me and struggle with making a two-hour movie commitment, I highly suggest watching the powerful movie. For those of you that aren't familiar with the story, it is about the group of women who worked at NASA in the 1960s and helped to get John Glenn into space. While these women were beyond educated when it came to Mathematics and Engineering, they were kept secret and much of their accomplishments were taken credit for by the men that worked at NASA, because men were afraid to let women into the same workforce.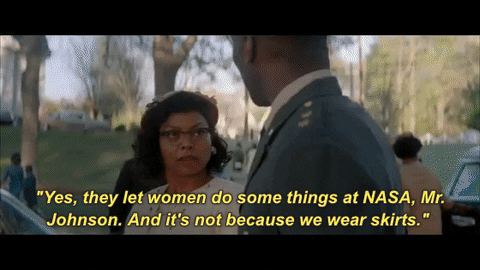 Hidden Figures follows three women in particular and shows the triumphs that they had made while refusing to back down from bettering themselves. Not only does the movie cover the difficulty that these women had to go through to convince men that they were as smart, if not smarter than they were, but also the racial diversity that was at an all time high during the decade. While some people were able to overlook skin color or their gender, others wouldn't even use the same coffee pot, let alone recognize that the capabilities of these women. These three women not only broke down the walls of stereotypes, but they also proved that no matter what the laws may have been or what the "normal flow" of what society was during that time period, if you want to accomplish something and put your mind to it, you can achieve anything.
Not only was the story line interesting to me (considering I had never heard about these powerful women before the movie came out), the casting was also intriguing. While I love Octavia Spencer and knew she was going to kill it in her role, Taraji P. Henson and Jim Parsons shocked me. Both played such an extremely different character from the roles that they play on Empire and The Big Bang Theory, that is was eye-opening to see the extremes in their acting capabilities. While the entire cast was very well-casted, if I had my own award show, those two stood out to me as the best acting nominees.
Most of the time, when I watch these award shows, I have never seen or heard of the movies that are nominated. They are movies that aren't really interesting to me, nor do I find them appealing even after they have won several awards, but with Hidden Figures, it is different. The movie was nominated for three Oscars and two Golden Globes. It also won a Screen Actors Guild Award for Outstanding Performance by a Cast in a Motion Picture. If my opinion of the movie and the awards don't give you enough reason to watch it, it was also chosen by the National Board of Review as one of the Top Ten films of 2016. I'm just saying, there were a lot of people out there that enjoyed this movie as much as I did..
Ginger Views: If you haven't already seen it, set aside two and a half hours to watch Hidden Figures. I'm a commitment phobic when it comes to investing time into movies, but I can assure you, that this is time well spent. Not only are you getting a history lesson on NASA and what happens behind the scenes there, you will be motivated by these women to want to go out and accomplish your own goals. From one feminist to another, or one movie lover to another, I can honestly tell you that this movie will stand out in your mind for years to come.
Originally seen on Ginger Views.
Featurd Image via Hidden Figures