Phoebe Buffay was one of the most loved characters on F.R.I.E.N.D.S., even though they are all pretty loved. Phoebe has so many unique characteristics that make her so lovable. She's got a strong heart and so much willpower. She grew up with a rough life, and though she doesn't let us forget that, she also shows incredible amounts of appreciation for life and sends so many positive vibes. Here are just a few of Phoebe's highlight moments we can relate to:
1. She knows how we feel 99% of the time. Especially when our parents and family friends start asking our what plans are after graduation. Like seriously, stop asking we don't even know what we're doing that weekend yet.   
2. She's always brutally honest. Like when your friends ask you to do something, but you're not feeling it. 
3. She reminds us what really matters in life. Never take any of your relationships for granted because those are what you should value over everything in life.
4. She knows how much change sucks. No one likes seeing their friends head off in different directions because you know no matter how hard you try things won't be the same.  
5. Her confidence in herself is contagious and fierce. She knows her worth and stands up for herself, and she makes it known. 
6. She never fails to bring up the embarrassing things her friends did in the past. Her favorite thing is making it awkward and not letting them live it down, which we love her for. 
7. She lived an extremely tough life and she turned out pretty well. Through the loss of her mom, her horrible sister, her living on the streets, and all the other times of her life she's struggled through she always tries to be positive. She also uses that as motivation to be better. 
8. She knows how to have fun in a completely relatable way. I mean really who doesn't enjoy going out on the weekend and getting drunk? 
9. Remember when that guy didn't text you back? Or blew you off at the bar? Yeah, she gets how we feel about guys. Guys can totally be the worst sometimes. 
10. Then there is that one guy who everything seems to just fall into place? Yeah, she gets that too. The real raw form of love. It's almost hard to believe. 
11. She also gets how we feel when we're trying to go out on the weekend. How can one have so many clothes but nothing to wear? It doesn't make sense. It's like after you flip through your clothes a hundred times you just finally settle on whatever you land on last.  
12. She's broke, just like us! She doesn't let that get her down though, she knows what she has. She might be broke in the bank, but she's rich in friendship, which is honestly the most important thing.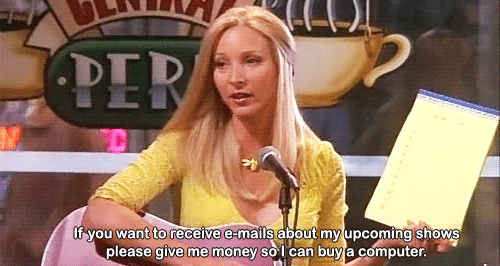 13. Just, yes, Phoebe. Do you ever feel like you're the one that's always there for others who just never seem to be there for you? Or the people who only come to you when it's convenient for them? Those people are toxic, knock them out of your life. 
14. She's all about love. Hate doesn't do any good, so just be nice to every person you encounter, especially the people who aren't nice to you. Those are the people that need kindness the most. 
15. And most importantly, she's always there, no matter what.
Phoebe was always endearing and funny, and we couldn't imagine F.R.I.E.N.D.S. without her. Throughout all 10 seasons and 236 episodes she always gave us a laugh and taught us a lesson. Phoebe was truly an important part of the show with her free spirit and childlike heart. We love you Phoebe, thank you for your character!  
Featured Image via screengrab from F.R.I.E.N.D.S..