Baby it's cold outside… and nothing's better on a freezing night than delicious cocktails to warm you up! Whether you need an easy last-minute recipe for your holiday party or some fun New Year's Eve drink ideas, these 5 cocktails are sure to make your family and friends feel merry and bright because 'tis the season to get drunk!
1. Irish Coffee
Let it snow, let it snow, let it snow! The wintry weather is no match for curling up on the couch with these classic cocktails.
Ingredients:
4 oz. coffee
1 1/2 oz. ​Irish whiskey
2 tsp. ​brown sugar or maple syrup
1 oz. lightly whipped heavy cream
Directions:
Brew your favorite coffee.
Place brown sugar or maple syrup in a Irish coffee glass or warm mug.
Add freshly brewed coffee to your glass. Stir until the sugar dissolves.
Add Irish Whiskey and stir again. Make sure you leave a ½ inch of space at the top of the glass for the cream.
Top with cream. Pour the cream slowly over a spoon if you want the cream to float.
Serve warm. Enjoy!
2. "Naughty or Nice" Hot Chocolate Cocktails
This boozy recipe will get you feeling festive in no time!
Ingredients:
1 cup milk
1 packet hot cocoa mix
2 marshmallows
3 oz. vodka
2 oz. chocolate liqueur (I suggest Godiva)
1 cup ice
Directions:
Heat milk in a small saucepan over low heat.
Stir in hot cocoa mix until no lumps remain.
Pour cocoa into cocktail shaker.
Broil marshmallows on baking sheet for 1 minute until brown.
Add chocolate liqeuor, vodka, and ice to cocktail shaker and shake.
Pour into your favorite Christmas mug and top with a toasted marshmallow.
Sit back, relax, and enjoy!
3. Peppermint Bark Mimosas
Celebrate winter in style with these fun, minty mimosas.
Ingredients:
¼ cup melted semi-sweet chocolate chips
3 crushed candy canes
3 oz. peppermint vodka
1 bottle prosecco
3 oz. White Crème de Cacao
6 whole candy canes
Directions:
Place chocolate chips in a microwave-safe bowl and microwave on high for 30 seconds. Stir in chocolate. Microwave again for another 30 seconds or until chocolate is completely melted.
Place three candy canes in a Ziploc bag and crush with a rolling pin. Pour crushed candy canes onto plate.
Dip rims of champagne flutes in melted chocolate. Then dip in crushed candy canes to coat.
Add half-ounce of peppermint vodka to each glass. Then add in half-ounce of white crème de cacao.
Top off with prosecco and garnish with candy canes.
4. Jingle All the Way Juice Cocktails
Have yourself a merry little Christmas party with this simple Jingle Juice recipe that all your friends and family will love!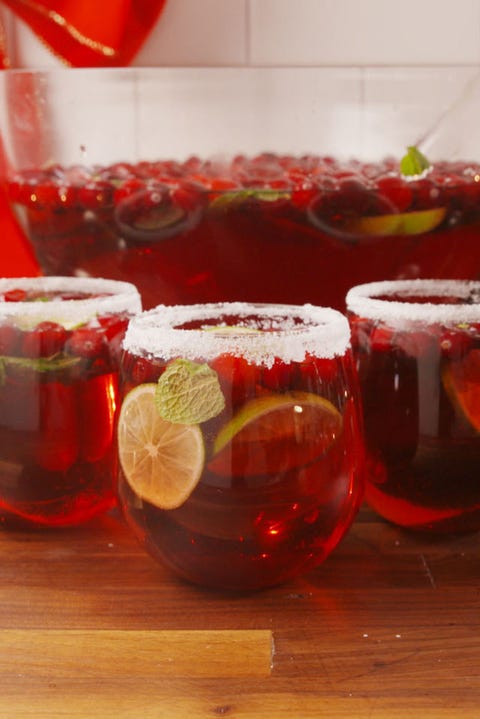 Ingredients:
4 cups cran-apple Juice
2 bottles red Moscato
1 bottle Prosecco
½ cup vodka
1/3 cups mint leaves
Cranberries for garnish (optional)
Directions:
Fill a large pitcher or punch bowl with ice. Then combine all ingredients.
Stir well.
Serve over ice and garnish with cranberries.
5. Apple Cider Mules
It's definitely the most wonderful time of year with these sweet cocktails!
Ingredients:
1 bottle vodka
A can Ginger beer
1 bottle Sparkling cider
Sliced apple for garnish (optional)
Cinnamon sticks for garnish (optional)
Directions:
Fill desired number of copper mugs (or regular glasses) with ice.
Pour 2 oz. vodka into each mug.
Fill mugs 2/3 full of sparkling cider.
Top with ginger beer.
Garnish with apple slices and cinnamon sticks.
Enjoy!
These five holiday-inspired cocktails will impress even the sourest scrooges! Just remember that Santa is always watching, so make sure you enjoy responsibly and never drink and drive.
What are your favorite holiday cocktails? Let us know in the comments below!
Feature Image by Julius Jansson on Unsplash