It's the most wonderful time of the year! Tis the season for pumpkin everything, leaves changing, scarves, boots, hoodies and the best sport of all, football. I'm not quite sure how we got through the year without this great sport being played. Honestly, how does one not spend the entire weekend parked on the couch, in front of the T.V. with a beer in one hand, a chicken wing in the other and football on the big screen?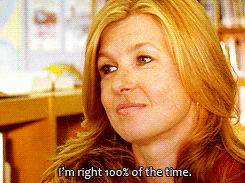 Okay maybe that is just how I choose to spend my weekends in the fall, but there is something about this sport that changes people's lives. Whether you are playing it, coaching it, or just a spectator to it all, football is a staple in a lot of families and towns. Especially in the South, where their way of life is nothing but football. That brings me to my most recent T.V. binge-worthy find, based on the story of the people of Dillon, Texas and their football way of life: Friday Night Lights.
I know I'm coming into the Friday Night Lights game late, considering it aired from 2006-2011, but I'm telling you, if you haven't experienced it yet, binge it! Thanks to Netflix, you get a dose of football, love, and drama. Think of the same dynamics of One Tree Hill, but with a different sport. You have the small town troubles mixed with high school drama, along with some adult storylines that will make you feel as though you are going through the problems with the characters themselves. It will take you back in time, to remind you of high school in a good way.
You aren't into football? Weird, but that's not a problem. There is a strong enough storyline and as well as eye candy that will sometimes make you forget that the entire show is based around it. From bad boy Taylor Kitsch (Tim Riggins) to sweetheart Zach Gilford (Matt Saracen), to the young Michael B. Jordan (Vince Howard), you will be sure to be mesmerized by these country boys. And gentlemen, don't you worry, there is some eye candy for you too! From good girl Minka Kelly (Lyla Garrity) to the bad girl Adrianne Palicki (Tyra Collette), you will surely be able to find something good to look at.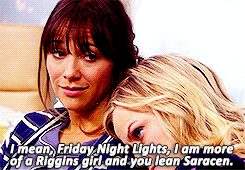 The major thing that stands out about Friday Night Lights is the realness. There are no superheroes with superpowers, there are no crazy far-fetched storylines, there aren't even any magical dragons that come swooping in to save the day. It is just about a small town in Texas and the normal problems that we face in life every day. Even though the characters may be fictional, it gives you someone to relate to, it gives you people to believe in and it also gives you this feeling of hope for all of those who are struggling. As if they can make it through these struggles, you can make it through yours as well.
Ultimate Ginger View: Binge it now! You will laugh with them, you will cry with them, you will fall in love with the cast of Friday Night Lights. Even though the show ended several years ago, it still has relevant storylines and is a feel good program for all ages and genders. Whether you love football (right on!) or can't stand it (how dare you!), Friday Night Lights will make you want to send your Fridays on the football field in Dillion, Texas with the Panthers chanting "Clear eyes, full hearts, can't lose".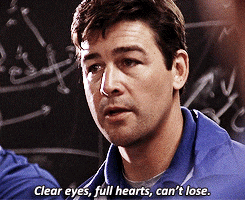 Featured Image via fridaynightlightspics