I don't know if you know who RuPaul is, she is a fierce drag queen who graces us with her beauty (and girl, she is gorgeous), charisma, uniqueness, nerve, and talent. And we are truly blessed to have her.
Mama Ru hosts her own show, RuPaul's Drag Race, a show where drag queens from around the United States come to compete to be America's Next Drag Superstar. They are all sassy, beautiful ladies all done up and they rock the runway.
And this show is awesome. It is not only funny (what with all the drama from the contestants and RuPaul's sassiness), but it is inspiring and wonderful. You get to know each contestant – you begin to hear their stories and how they've overcome certain things, like depression, eating disorders, coming out to their families, and how they're better because of them. The contestants become much more than sassy drag queens – they become likable, relatable people.
And beyond seeing all these beautiful drag queens totally owning ball gowns in a way I hope I can when I'm older, I have learned so much about makeup! Watching the queens do their makeup in episodes, I have learned so much about contouring and cat eyes and lipstick. They never explicitly give you tips, but I can't take my eyes off my computer screen whenever the queens are getting ready.
The winner of Season 8, Bob the Drag Queen was one of the most surprising contestants. I did not expect to like Bob, but by the finale, I couldn't wait to see what Bob was up to. Like RuPaul, every episode had me laughing at something Bob said it did, but it also had me feeling inspired by Bob. For example, Bob was sassy and unapologetically so, but he also knew when to be serious and when to act his age. Plus, he taught me it's very important to walk into rooms "purse first."
Now, let's get back to RuPaul herself. In interviews as himself, or up in drag, RuPaul makes it clear that drag is a way to empower the men who do it, and it is also an entertaining way to empower women and men alike.
RuPaul is a fierce queen and is incredibly inspiring. Through her show, and her book, Working It, women, drag queens, gay men, straight men and everything in between can be inspired and that we should all feel beautiful in our skin, no matter what size, color, or gender we may be.
And that's a lesson we should all take to heart. After all, in the words of Mama Ru, "if you can't love yourself, how in the hell are you ever gonna love somebody else?"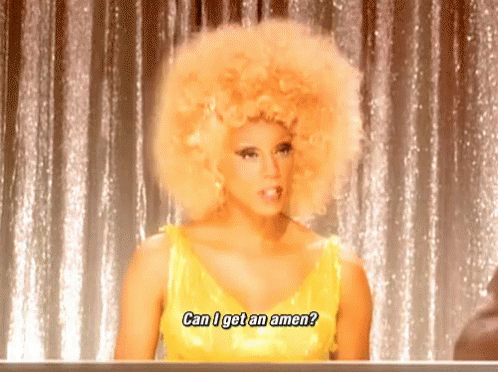 Featured Image via screengrab of RuPaul's Drag Race.