With the power of Netflix and social media consistently tag teaming on each other's continued success, it's next to impossible not to hear about Netflix shows while on social media. From spoilers to predictions and opinions, we hear it all.
Two of the streaming services biggest shows are currently Riverdale and Chilling Adventures of Sabrina. Both shows have earned high praise among audiences, and with the recent release of the Sabrina reboot, fans are comparing the show to its similarities to Riverdale.
What most people fail to realize is that Sabrina The Teenage Witch was actually a character in the original Archie comics.
That's why the shows are so similar and connected.
The comic book series was published by Archie Comics about the adventures of a fictional teenage witch and appeared in her first Archie comic in October 1962. Sabrina is a half witch (her mom is a normal human and her dad is a witch). They all live in the fictional town of Greendale, which is located near Riverdale, otherwise known as the home of Archie Andrews and his friends.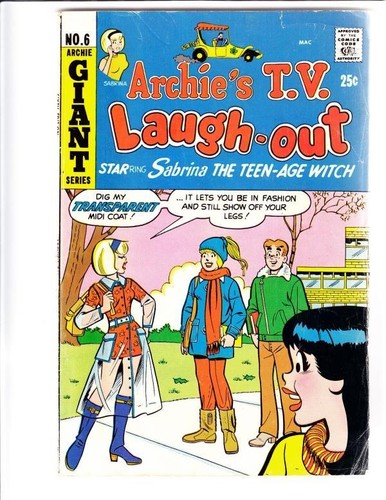 While both comics were eventually turned respectively into animated television series, with Sabrina also getting a live-action TV show and movie before the reboot we now see on Netflix; fans fail to see how the shows are connected, yet see striking similarities.
Both shows are also created and written by the same gentleman, Roberto Aguirre-Sacasa.
It's no coincidence that they are almost identical aside from storylines and characters.
Fans are firm believers there should be a crossover episode eventually because of the similarities between programs. Many fans have voiced disappointment that there was no crossover episode at the end of the first season of Chilling Adventures of Sabrina. So far the only connection between the two shows was when newly deceased Ben Button, you know, that guy who died playing G&G on Riverdale, showed up at Ms. Wardwel's door on Sabrina.
But don't worry, there are new hopes as Netflix just announced the series will get a holiday special in December, so we may get our present after all. Roberto Aguirre-Sacasa, the showrunner for both shows, has confessed he will want to do it eventually but is unsure when.
But based on these two cryptic posts, announcing a Sabrina x-mas special, and a picture of Archie with a weird little elf, this could be an indicator it could be coming as soon as next month.
https://twitter.com/WriterRAS/status/1061936431122108416
Big news for the Archiverse coming tomorrow, stay tuned…❤️ pic.twitter.com/hPjuZW9dQl

— RobertoAguirreSacasa (@WriterRAS) November 11, 2018
Either way, I'll be patiently waiting for it to happen.
And if you didn't know why the shows seemed so damn similar, now you know!
Featured Image via TheCW