As I sit here with my goblet of wine and desperately channel surfing for something highly educational or a Sex and The City marathon, I find that one of the most beautiful love stories ever written is on, Pretty Woman. For those of you poor, sheltered souls that are not familiar with this romantic movie, it is a classic story of an average woman being rescued by an average man. By 'average woman', I mean a poor hooker. And by 'average man', I mean a rich businessman. A hooker and a businessman fall in love and live happily ever after. CLASSIC.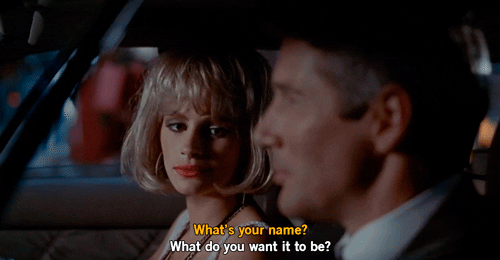 While I know it might not sound like the most charming story, it is one of those go-to movies for women. It is one that you have to stop and watch every time it is on, even after you have seen it a million times and can quote all of the lines from it. Why might you ask? Because it is a story that all women secretly wish for… Richard Gere in his prime. Just kidding! To become a street walker. Super kidding. To have a rich man take you into a store and let you buy whatever the hell you want! Only kind of kidding. No, my friends, the thing that women are secretly wishing for is that fairy tale ending with a man turning out to be better than you imagined him to be.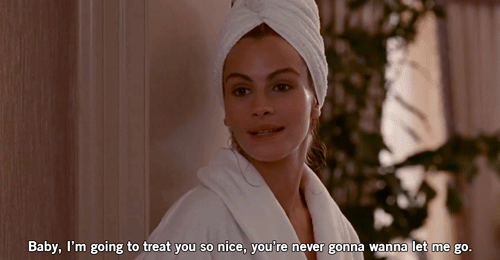 I get it, a hooker being saved by a businessman is not the normal fairy tale scenario that you would see in a Disney movie, but this is more about the two people from opposite sides of the track. Not only do they open each other's eyes to seeing the world in a different way, they also are flexible and trying to become a better person for the other. Along with the fact that they both open themselves up to new opportunities to allow themselves to grow. This is something that every girl is looking for with every man; to be able to change their perspective on life to allow them to see the world through their eyes.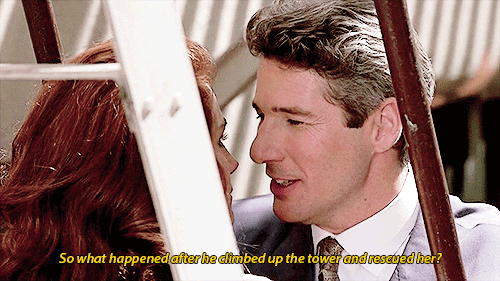 When we meet Edward, he is this tight-ass business man who is just looking for someone to give him directions back to his hotel. He isn't the friendliest. He isn't the most charming. Hell, he is down right rude treating Vivian as if she is just someone he paid to have sex with (which she is, but he could have at least been a little nicer about it!). It wasn't until he finally opened up to getting to know Vivian that he started to come out of that hard shell and be the Edward we started to fall in love with.
While he falls back into his old, rich pompous ways many times, he changes for her. He opens himself up to the idea of her and shows that to her in the most romantic ways possible. She wasn't just some girl he found on a street corner, she was the girl who slowed him down and made him appreciate the world for all its beauty.
She was the girl that changed him.
Now, this is not saying that all women want their man to change (even though we can find many things we would like to change about them), but when it comes to some men, it is the ultimate when they change their ways for you. When they stop holding back and just give in. When they are able to surprise you with the little things and able to be the person that you know they are capable of. When you are able to see a different side of them because they aren't so afraid of opening up to you. That is what we have with Edward and Vivian, the ultimate change. The ultimate fairytale ending. Even if it involves hooker boots.
In conclusion, and the lesson that we can take from this, Pretty Woman is one of the best love stories of all time. It doesn't matter if the love the story revolves around a hooker and a businessman. It doesn't matter that he met her on a street corner and the beginning of their relationship is based on sex. It doesn't even matter that in the real world, the likelihood of this love story taking place in real life would never really happen. It is just one of those movies that women will forever love for the simple fact that in the end, the girl got her happily ever after.
Featured Image via screengrab from Pretty Woman.