[SPOILERS]: If you have not finished watching the last two episodes of season four of Orange is the New Black, STOP READING HERE.
It's summer so you know what that means: Your favorite Litchfield ladies are back, and this time, it's personal. On June 17th, 2016, we were graced with the return of one of the most popular shows on Netflix, Orange is the New Black. The season explored a couple of real-world, hard-hitting topics such as prison injustice and the Black Lives Matter movement, and wrapped it up with a final two episodes that left viewers broken-hearted and with their jaws on the floor.
Jenji Kohan, if you're reading this I just have one question for you: Why are you trying to hurt me like this? 
Season four has shown us many ups and downs: Piper's business failing, Nikki's return, the body parts in the garden… Despite all of this, I don't think anyone was expecting that pivotal end-of-season moment that we all try to push to the back of our minds, the inevitable fall of Poussey Washington (played by Samira Wiley). Why inevitable, you ask? Well, creator Jenji Kohan and her writers set the character up for demise from the very beginning of the season. Any writer could see it coming from a mile away: Poussey was getting more attention, she was in love, she secured herself a job after prison, and she was overall happy. 

The creator and writers argue that the idea was to pay homage to the recent events circulating the Black Lives Matter movement. Putting aside the fact that they chose to kill off a minority character (black and LGBTQ), we should discuss why the decision to kill her off was not given enough thought. If police brutality was their aim, why did they choose to play her death off as an accident? I continue to wonder why they didn't tie this into the prison injustice timeline and just choose one of the many wildly abusive corrections officers new to the prison.
It seems to me that they should have called off the choice to promote Black Lives Matter if they were going to just sweep her accidental death under the rug. They set most of it up correctly: a peaceful protest, officers vs. prisoners, an untouched body left for days to rot… Everything except her actual death.
Now they have many outraged fans calling the show out for its inability to properly portray real-life events.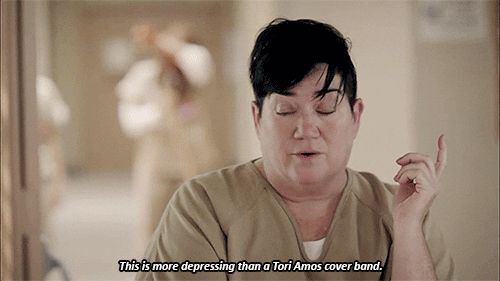 Not to mention the latest Twitter hashtag: #PousseyDeservedBetter. 
This isn't the only issue surrounding the big death. What are the writers' plans for the show's future? How did killing Poussey off benefit the long-run of the show? It seemed forced and more of a one episode shock-factor that will not have any effect on the next few seasons.

All we know as of now is that the show has been renewed through season 7, leaving us with so many unanswered questions about the show's future. Jenji Kohan has not revealed what's in store, but we can only assume that things are going to get crazier. With Poussey's death and a hell of a cliff-hanger finale, ending with a rally as well as the corrections officer's fate in the hands of the prisoners, the future of the beloved show is currently a mysterious abyss.
What can we expect from season 5 of our unhinged prison dramedy? I guess we'll have to wait and find out. Until next summer, Litchfield. 
Featured image via screengrab of OITNB