I am 21 years old and I do not wear makeup. I mean, I do if I'm going somewhere special or it's an occasion that calls for getting a little dressed up. But, in my day-to-day life, I don't see makeup as a requirement. I don't really work in an environment where I see a lot of people and I've never felt like wearing makeup makes me more impressive. It's really just a waste of time and money that I don't have, so I skip it.
There is definitely nothing wrong with wearing makeup if that's what makes you feel beautiful, comfortable, and confident… But, if you want to try a makeup-less look, it's a really great way to save time, money, energy, and give your skin a break! Every woman deserves to feel at ease in her own skin no matter what, so here are 10 tips to help you pull off a natural face that looks great:
Always make sure your skin is clean.
As a rule, you should always wash your face at night. Dirt and oil build up throughout the day and it's important to clean it off to avoid breakouts. My personal routine is to wash when I wake up in the morning and when I go to bed at night. If I've had a particularly crazy day, I might also wash after work just to get rid of oils. It's also a good idea to wash after the gym! Keeping your skin clean is extremely important for a makeup-less day, but remember to not overdo it or you'll lose the natural oils and dry out your skin.
I, personally, recommend Biore or Spectro. Biore is great for an everyday cleanser while Spectro is perfect for acne prone skin or for using when you've broken out.
Moisturize if your skin is dry.
If you do struggle with dry skin, make sure to moisturize. Your skin is exposed to a lot throughout the day between harsh climates and build-up of dirt and oil. Moisturizer helps protect your skin and keep it healthy, not to mention it's the best way to get sun protection without the greasiness of sunscreen. Looking good on the outside has a lot to do with feeling confident inside. Do what you need to do to feel comfortable. Invest in a quality moisturizer that fits your unique skin care needs and apply it once or twice a day.
Maintain your brows.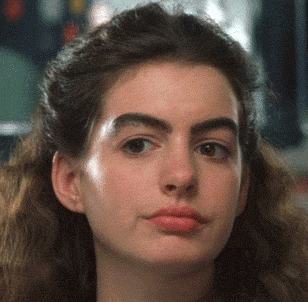 Eyebrows play a big role in your overall look and that role only becomes even bigger when you take makeup out of the equation. Honestly, I do very little work on my eyebrows. I just keep them even and remove any "stray" hairs. I am happy with the natural shape of my eyebrows but you should do whatever makes you feel best.
Wear sunscreen or a moisturizer with an SPF.
Keeping your skin healthy is a huge part of looking great without makeup. Sun damage can cause premature wrinkles and a leathery look to your skin. A lot of makeup offers some sun protection which is great for us lazy girls. But remember, if you're not wearing makeup, you need to find a replacement product for that.
Dress for the skin tone, ears, and features you have.
Makeup is a great way to emphasize and highlight things you like about your face. Without it, you can still do that. Choosing colors that "work" with your skin tone and eye color is a good first step. Beyond that, know what looks good on you. For example, if you have a round or fuller face like I do, maybe don't go for a turtle-neck.
Add some accessories to your look.
When you take something away, it's helpful to add something in it's place. Jewelry, scarves, sunglasses, and hair accessories are all excellent options to enhance your look when makeup has been taken out of the equation. Just remember, without makeup, your look will be very toned down and natural, so choose accessories that pair nicely with that image. Don't let your accessories run your entire look, they are meant to compliment it!
Take extra care of your hair and nails.
You'll have extra time and money to work with, so why not give your hair and nails some TLC? Without makeup, more attention will be drawn to other features. Take some of the effort and creativity you dedicated to doing your makeup, and do something fun with your hair or nails. A great idea is a nice french manicure for your nails, it goes great with your new simplistic look.
Take care of your body.
If you're going to be fresh-faced and foundation free, you need to be healthy or you'll look washed out. Getting lots of sleep, drinking lots of water, eating right, and sweating to replenish your skin (yes ladies, that means exercise) will keep your skin looking healthy and clear.
Make sure your pearly whites are…well, white.
Your smile is going to be one your prominent features when you go makeup free. It's unavoidable, so keeping your teeth healthy and white is important. The best thing is to take care of them: brushing, flossing, rinsing, and seeing a dentist regularly for cleanings. But if you've already done some damage (and thanks to Starbucks and wine, most of us have), try whitestrips or other whitening treatments. Then, consider using straws more often when you drink.
Chapstick.
Since your smile is now front and center, keep your lips looking healthy and hydrated. Drinking water helps, but sometimes we can use a little something more. Get yourself a couple of tubes of chapstick (one at home, one on the go, one in the car, etc.) Whenever your lips are feeling a little dry or cracked, apply some to keep them looking and feeling their best!
Makeup should be an option, not an expectation. Society tends to dictate that makeup should be part of every woman's morning routine but that's simply not true. Every woman is beautiful. There are a lot of benefits to taking a break for makeup. Your skin will be clearer, you'll have more spare time and money, and no smudging! Makeup is a great way to enhance that beauty but going fresh-faced and makeup free is an amazing way to feel confident in your own skin.
Featured image via Demi Lovato