Selena Gomez is stirring up the pot again by releasing not one, but two new singles. Not only is she creating new music and videos to accompany them, but she's also bringing the drama to match.
The last 24 hours have been quite the whirlwind for the 27-year-old pop star. With each move she makes, Justin and Hailey Bieber respond and create news headlines. Justin and Selena started dating way back in 2011 and broke up in 2012, though they were on and off until 2014. They rekindled their relationship in late 2017 but called it quits again in early 2018. Just two months after their split, Justin married Hailey.
After the marriage of Justin and Hailey, Selena Gomez took a step back from the spotlight and disappeared… until now.
Wednesday, October 23rd @ 12:00 am
Selena drops her new single "Lose You To Love Me". The music video shows a vulnerable and somber Selena singing into what appears to be a mirror. She's talking about getting her strength and focus back after she was free from a toxic relationship. Owch.
As if you weren't convinced that the song wasn't about Justin Bieber, one of the more noticeable lyrics are: "You turned me down and now it's showing / In two months, you replaced us / Like it was easy".
About half an hour later…
Hailey posts a screenshot of her listening to a song called "I'll Kill You". Fans notice immediately how coincidental it is that she posted it right after her husband's ex released a song that was clearly about her relationship with Justin.
As if the name of the song couldn't be any blunter than what it is, some of the lyrics from the song are: "Don't want no problems, I wish a b*tch would / Try to come between us, it won't end up good / You know I love you like no one else could."
12:40 am
Justin conveniently posts a picture of a cheetah with blood on its face.
Later, he changed the caption to make it seem like he just liked the pic from a nature account on Instagram. But fans think it meant something different…. Maybe that he got caught being a cheetah. So maybe Hailey's post was directed at Justin instead of Selena? But fans aren't buying it.
12:30 pm
Hailey commented on JustJared's Instagram post justifying what her post was about. That left the fans even more pissed because she appeared to be backtracking.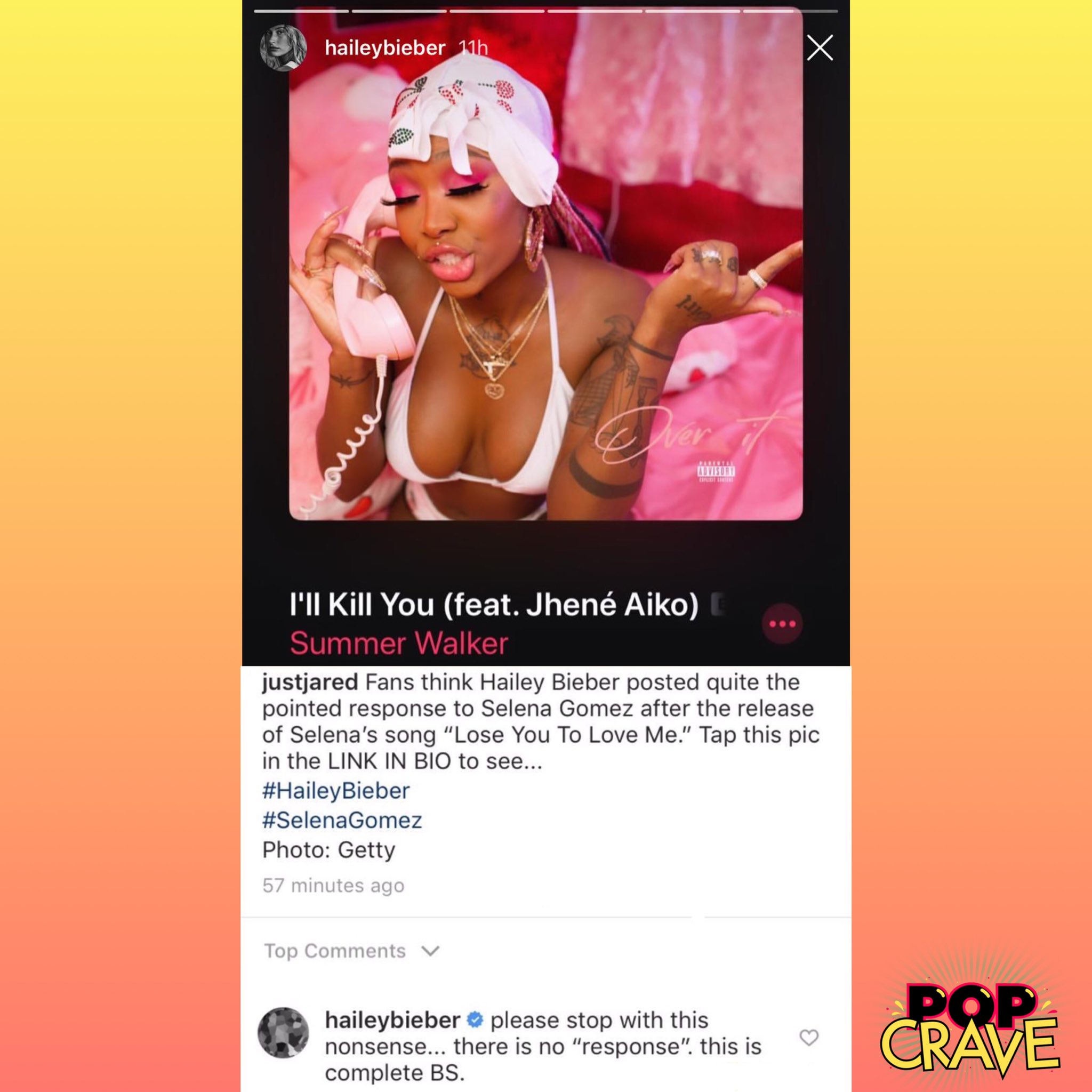 Afterward, the internet went into a frenzy, instantly taking sides and pointing out the obvious in the situation.
9 pm(ish)
At the end of the day, Selena took to Instagram Live to thank her fans for the support. However, she also took a moment to express that she doesn't condone people pinning others against each other. Again, a very direct response to what Hailey posted in her story.
Thursday, October 24th
Selena surprised fans with another single called "Look At Her Now". It sounds nothing like yesterday's release and almost marks the turning point in mourning a relationship when you go from sad to empowered and confident.
And in case you needed more convincing, the song is about Mr. Bieber. And these lyrics are wild. "It was her first real lover / His too 'til he had another / Oh, God, when she found out / Trust levels went way down / Of course she was sad / But now she's glad she dodged a bullet (Mm) / Took a few years to soak up the tears / But look at her now, watch her go."
My theory:
I think Hailey posted the "I'll Kill You" post at Justin instead of Gomez. Maybe because she knows he's settling with her (because it certainly seems like it to me), or because something else happened that prompted her to snap. Or she's trying to get attention from her husband to stop him from listening to his ex's song in fear that he might miss her (since it's happened before).
If I'm being quite honest, I think Hailey is a very insecure 23-year-old, but I understand her reasoning. There are always two people who are meant to be together even though they might not end up together. And no matter what happens they will always be each other's greatest loves. Justin and Selena are a perfect example of that.
Justin Bieber and Selena Gomez were each other's first loves and they grew up together. Their shared journey was on the world's stage and they still maintained their privacy. But you could always see that their love for each other was fierce even if they didn't end up together. Hailey is well aware of that, much like the rest of the world is.
Sure, she might have money and the man and the ring, but she will always have to know that Justin has a place in his heart for Selena Gomez and always will. So whenever Gomez is mentioned, insecure Hailey immediately gets defensive and jealous. But who wouldn't? We all can judge her for how she reacts. But we all know that if we were in a situation like that in our small towns, we would equally flip the same way.
I think Mrs. Bieber is living in a fantasy world and is in the honeymoon of playing house. Maybe she's feeling pride in marrying one of the world's biggest pop stars. But that doesn't mean she's unstoppable. She's not a very mature 23-year-old at all. Moreover, she seems to lack a sense of reality since she has lived such a charmed life since birth.
I mean, remember when she was just as obsessed with Jelena as the rest of us?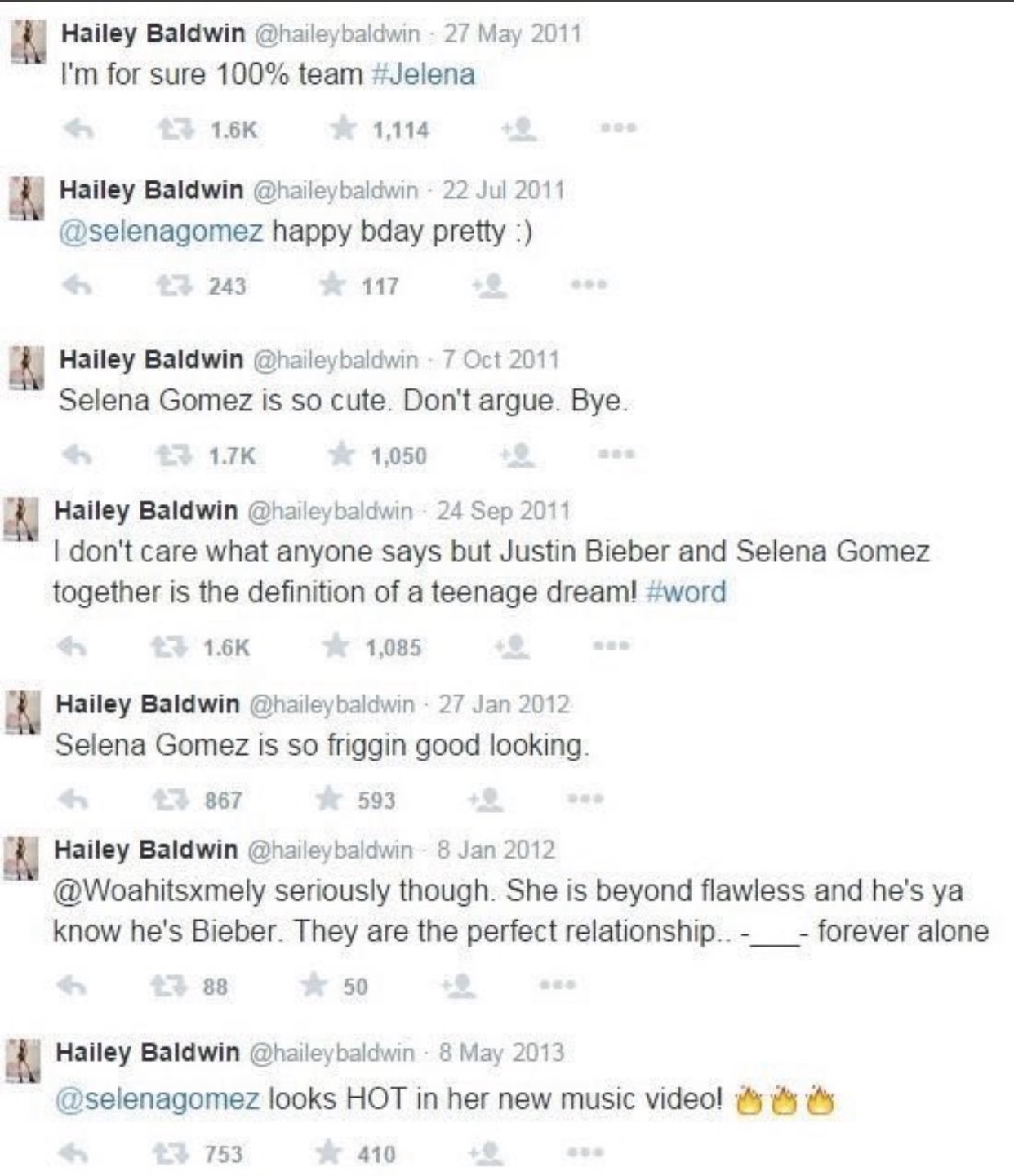 Oh yeah, I went waaaayyyyy back to the archives for this one.
At the end of the day, Hailey Bieber is always spewing hate in a passive-aggressive way. Then, she uses her love of God as a way to justify that she's a good person despite being a bully. Kudos to Selena Gomez for keeping it cool and classy yet again when a media frenzy breaks out around her. Stories like these could really eat away at someone and she seems to be coping very well. I'm glad to see good karma is going her way.
Featured image via Wikimedia