The tiny house lifestyle is one trend that certainly won't be going anywhere any time soon, and some of the small homes people are building are serious #HomeGoals. Aside from the potential opportunity to travel across the country with your house in tow, your expenses will be practically nonexistent, and you'll be far more energy efficient than you would in other living spaces.
With the cost of living exceeding the salaries of most Americans these days, more and more people are ditching their 9-5 and taking on a simpler way of living. While embracing the minimalistic culture might not be for everyone, these tiny homes are so adorable that they just might change your mind.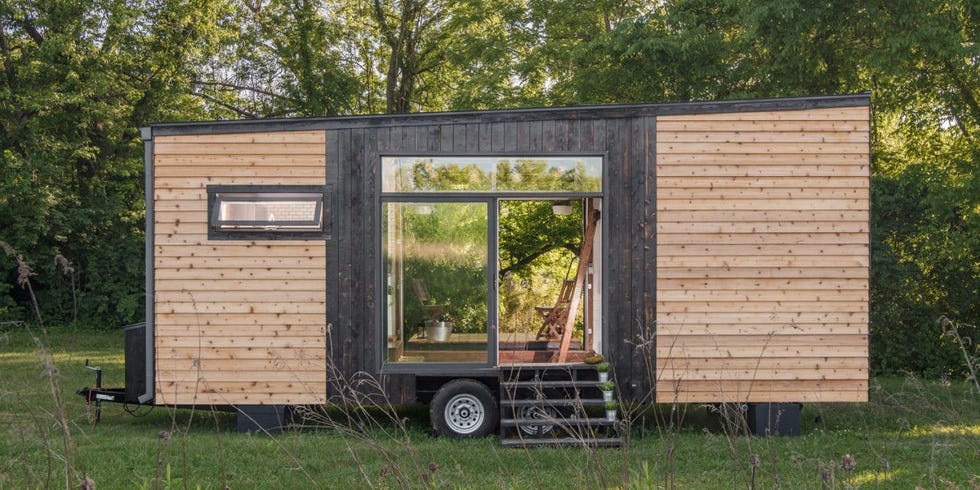 If you dream of a farmhouse kitchen and a garage door exit to your backyard deck, then this tiny house design just might be your idea of perfect. With only 200-square-feet to work with, this farmhouse is surprisingly spacious. The barn door bathroom entrance, rustic wood, wine crate kitchen storage, and lightbulb accents all help bring this design together and get it on this list of adorable tiny homes. For just $95,000, this small house can be yours. It's complete with a full-size jacuzzi bathtub and a king size bed.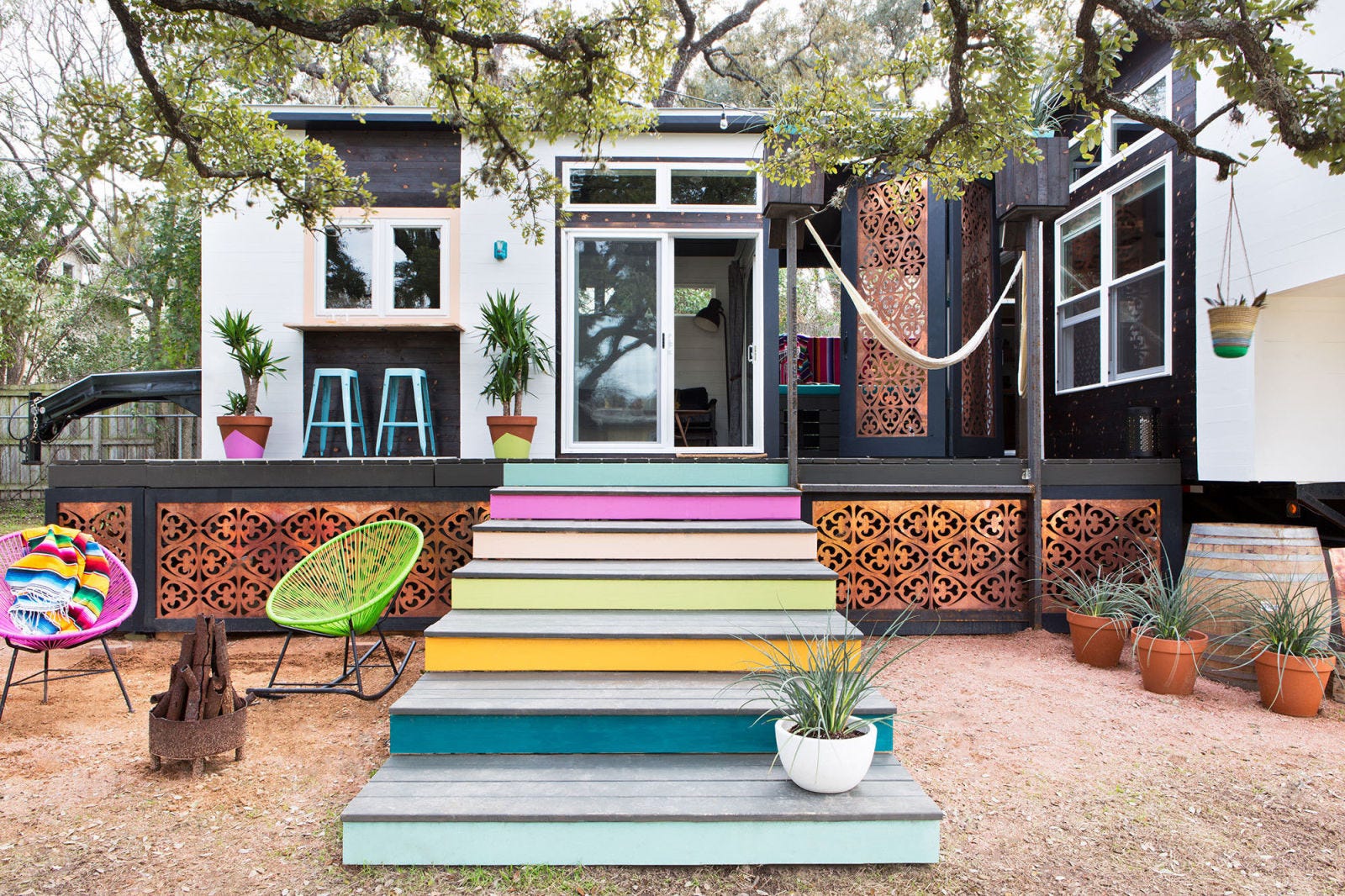 At just 400-square feet, this colorful cottage was built from two old-school RVs that are connected by a small deck. One of the RVs holds a bedroom and laundry nook while the other is where the kitchen can be found. What makes this construction so unique is that the deck, which doubles as a dining area, isn't permanent. It can easily collapse and be stored away, making this tiny house completely mobile.
If you're thinking it would be impossible to live in such a small space, then you have to check out this 100-square-foot home nicknamed "The Nugget." It may seem impossible, but this structure actually holds a bathroom, kitchen, and bedroom. While it might be difficult to live in this tiny house full time, it has all the necessities needed to travel in or stay in temporarily.  
For those in need of a bit more space, this simple design allows you to sleep up in a loft, separating your bedroom from your living space. But if you are keen to convert your lofts into a more practical space, check out visionarylofts.co.uk. What makes this tiny house so great is the simplicity of it, which allows you to add your own flair. It's perfect for those who are looking to take on the tiny house lifestyle but don't want to give up their love of home decor. Park it on some lakefront land or take it on the road. The choice is yours! If this adorable house doesn't have you thinking #HomeGoals, then I don't know what will.
Who says you can't raise a family in a tiny house? This cozy cabin was designed by an architect for herself, her partner, their daughter, and their enormous Great Dane to live in, and she clearly nailed it. At just 196-square-feet, this house was built on a 24-foot flatbed out of used pallets, which cut the building cost down to just $11,000. The outdoor porch area and cabin in the woods style puts this one-of-a-kind tiny house on everyone's wish list; I mean just look at those usa made cabinets.
Whether you're taking on the beach life full time or looking for a getaway spot to call your own, this beach bungalow will definitely offer some inspiration. Once again, the lofted bedroom provides residents with more floor space where they're able to have a nice living room and large kitchen. This particular small home also has a desirable outdoor space that's practically as big as the house itself, which certainly opens it up a bit.
If these tiny homes don't have you suddenly Googling how to build your own, then perhaps you'll find the culture appealing. Those who join the small house community often feel like they belong to a family, as there's always someone around to offer some words of advice or lend a hand. Tiny house neighborhoods are designed to bring people together, and whether you stay for a few months or a few years, you'll make memories that you won't soon forget!
Featured image via Florian Schmetz on Unsplash