On Friday, October 13th Pink released her first studio album in five years, Beautiful Trauma. And although she's a seasoned veteran in the recording studio with 7 albums under her belt, she recently admitted to Entertainment Weekly that she still needs to gather up some courage to get what she wants done.
In the witty interview she revealed that she wrote a song with her powerhouse producer Max Martin and knew exactly who she wanted for the rap part of the song. She wanted Eminem. But even rock stars still get nervous when asking favors from friends.The two previously collaborated on his Recovery album on a track called "Won't Back Down." So one would think she wouldn't be nervous to ask him.
She told EW, "I sneak-attacked him. I wrote this rap. We were drinking a lot of wine, and then I went home, and I thought more wine would be a good idea."
So how did she decide to get a hold of him? She wrote him a drunken email.
"I said, 'You know I love you. I like that you work with a lot of the same people, like Rihanna. She's hotter than me, but I'm funnier. So I'm going for a rap Grammy, and I'd like to take you along with me.' It was this long email, and he wrote back right away."
But what did Eminem say!?
"Okay."
That's right, he hit her back with an "Okay."
Unfortunately for her, he was in Rio De Janeiro when the request came in, but he sent his piece in another email four days later. Such a professional recording while on vacation and enjoying the beauty of Brazil.
Pink recalls, "I emailed him again, I was like, 'This is the best thing I've ever heard! I want to tackle you and rub your face in the dirt!'"
How did he respond again? "Okay."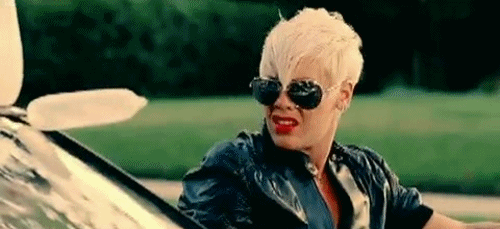 Obviously, both artists are in the process of comebacks with Pink releasing her new album, and Em performing "The Storm," an insane anti-Trump freestyle, on BET's Hip-Hop Awards on Tuesday, October 10th, a week exact before his 45th birthday.
You do have to admit, it's funny how a man of so many words just responds with just one word. You can picture Pink being so excited, screaming all over the place, and a serious Eminem just saying his one word with a straight face. But she got what she wants, and the song is a banger.
So congrats to them both!
Feature image via @instagram