Valentine's Day is just around the corner. For those who are planning a romantic date with their significant other, this can be a hectic time. Planning presents and organizing how the actual event is going to go down can be chaotic. There is always the usual dinner and a movie date idea, but that gets boring pretty fast. On the other hand, something over the top is not in everyone's price range. As much as I want to splurge on Valentine's Day, my bank account is still trying to recover from the holidays. So I put together a few budget-friendly date ideas to treat your significant other, without hurting your wallet too much.
1. Skating
Ice skating is one of the most romantic dates, especially if you decide to bring some hot chocolate for later. However, if you don't like to be out in the cold, another option is to go roller skating indoors. This is a fun throwback that will bring out the kid in you and your partner.
2. Go antiquing
Visit some flea markets or thrift stores. It's amazing what kind of cute things you can find while looking through antique shops. If you have a specific interest that both of you enjoy like music records or books, you can hit up a store that is specifically designated for that too.
3. Poetry reading, improv show, or comedy open-mic
All of these can be very budget friendly. It's always nice to see how many talented people there are out there. You might even get inspired by someone's story. Or if you are the brave kind, you can always go and up on stage yourself.
http://giphy.com/gifs/mic-LBOPG1UhfzQZO
4. Trivia, board game night, or bingo
A lot of bars have trivia night for about $5. It's a fun way of meeting new people and enjoying a night out without the expenses. Not such a trivia fan? There is always the option of going to a board game night or hosting one yourself. And then there is always bingo night. It sounds like it might not be the most exciting place on earth, but it might actually be worth checking out. You might even win something!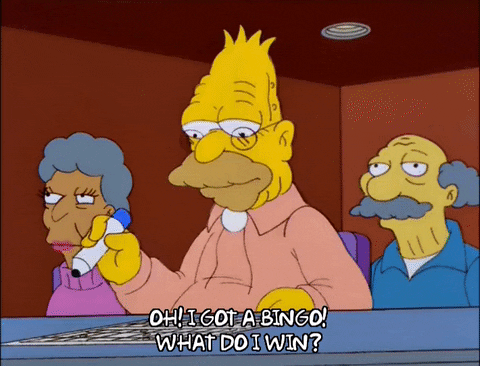 5. Be a tourist for a day
This is a classic. Find some tourist attractions in the city that you have never thought of visiting and make a day of it. Explore the city from a different angle; go to a part of it that you have never been in before. And of course take a lot of touristy pictures.
http://giphy.com/gifs/pictures-the-office-pose-d7l4t3lU5i168
6. Karaoke, bowling, or mini golfing
Make a double date or even a triple date out of all of these. It's nice to split the bill at the end of the night. And all these activities are so much fun to do with a big group! This is a great time to socialize and catch up with your other couple friends, while still spending time with your significant other.
http://giphy.com/gifs/karaoke-ndLexTGmj3iqk
7. Craft together, make dinner or bake
You can just opt out of buying presents for each other and make some together instead. This is a fun idea if you want to stay in the comfort of your own home and skip the chaos of Valentine's Day altogether. If you're not very artsy, you can always just make each other's favorite dish. And if you and your partner have a sweet tooth you can make some homemade desserts as well.
http://giphy.com/gifs/couple-26wzcAlrGmWdy
It doesn't really matter how you end up spending your Valentine's Day, as long as it is with the person that you care about the most. If you put in effort into planning the date, your significant other will definitely be pleased. At the end of the day, it's the thought that counts!
Featured image via Helena Lopes on Unsplash