If you're reading this, it probably means your birthday is coming up (or you have some evil scheme to fake a birthday and hope for some free shit, hey… We've all been there). So happy birthday to you, and I hope you don't settle for the cheap complimentary dessert that most restaurants will give you. You are a queen, and on the celebration of your fabulous life, you better bet you're going big. Check out the following places you can go to ensure your birthday is anything but average: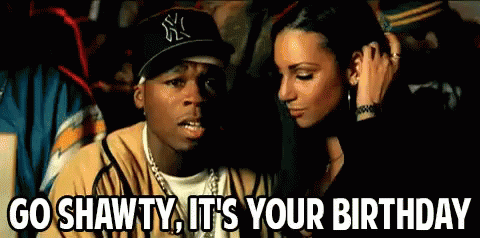 Food and Drink
Starbucks – Grab a free drink on your birthday when you sign up for their rewards program. Morning coffee? Covered.
Denny's – Free Grand Slam on your special day means this breakfast is better than in bed. Sign up for their mailing list.
IHOP – Free pancakes and a free meal when you sign up for their emails (half birthday holla). Just incase that Denny's breaky didn't quite fill you up.
Johnny Rockets – Sign up for their mailing list and grab a free burger. Burger…free…same sentence? We'll take it.
Dairy Queen – Free ice cream on your birthday when you sign up for their Blizzard fan club. Needless to say, we're a fan.
The Works – Get yourself one of these rewards cards and grab a free mega burger from their crazy variety of choices.
Menchie's – Their MySmileage program gets you 5$ off or toward a frozen yogurt on your birthday! Curb that late night craving right at 11:59 before the birthday celebrations close in for the day.
A&W – Enjoy the yummiest root beer on your special day. Most delicious part? Free when you sign up for their e-coupons.
Tony Roma's – Free entree on your birthday making your dinner officially covered. Sign up for their emails online or in store!
Clothes
Urban Outfitters – Download their app Urban On and sign up for an account to get 20% your birthday month (you'll also get discounts on your half birthday… no faking necessary).
Designer Shoe Warehouse – Take $5 off on your birthday and grab some bangin' shoes to wear out that night.
American Eagle/Aerie – 15% off your birthday month! Because we all know your birthday lasts longer than one day…
Columbia Sportswear – 20% off birthday coupon when you sign up for their e-list.
Cosmetics
Sephora – Sign up for their Beauty Insiders program and get a free surprise gift on your birthday!
Smashbox – Free gift on your birthday so you can stay glam.
Experiences
Disney – Register for their movie rewards and get a free Blu-ray credit on your birthday. Movie night just got a whole lot cozier. The Lion King anyone?
Vegas' Eiffel Tower – When in Vegas…let it be free!
Medieval Times – Since you're a queen, makes sense you act like one. Hit up a Medieval Times show for free.
Georgia Aquarium – Check out the underwater world for free today!
Smarty Pants Escape Room – If you catch yourself in Vancouver, check out this free escape room!
Exit Canada Escape Room – For those of you who aren't in Vancouver, but are in a different Canadian location!
OLG Slots – Free slots on your birthday month when you sign up for a Winner's Circle Card!
Oh the value of handing out your e-mail address. You've literally got every meal covered and tons of places to see, so I'll let you go wild. Before you head out be sure that you've used your designated spam account from that MSN you had in grade 6 and don't get caught up in actually having to skim through hundreds of promos a day from these companies. Also, bring ID just in case they are suspicious but most importantly have fun! It's your day, so make the most of it.
Featured image via cottonbro on Pexels