You've binge-watched all of Breaking Bad, you're all caught up on Orange is the New Black, you've finished reading the entire series of Game of Thrones, and watched all 6 seasons…twice. You need a new TV obsession and there's a good chance you're going to thank me after this article. Starz latest TV show, Outlander, has everything you need to get hooked. It has sex, violence, good-looking characters, and so much more. Here are 12 reasons why you should sit up every night and watch Outlander.
1. Majority of the episodes are filmed in Scotland, so you can bet there are a lot of Scottish accents…and kilts. All of the characters (except for Claire) talk in a Scottish accent. Forget swooning over British accents, Scottish accents are the new thing now.
2. The main male character is hot. I'm talking like Magic Mike hot. Holy shit. I could write a book solely on him. James (Jamie) Alexander Malcolm MacKenzie Fraser. Beautiful blue eyes. Beautiful Sexy AF accent. Beautiful long red curly hair. Beautiful body. Beautiful human. Enough said, just see for yourself.
Andddddd maybe just one more… 3. The storyline will take over your life. You'll have to pay attention or else you'll be lost in 2 seconds, but you'll find yourself rewatching old episodes again because you're slowly putting the pieces together. I promise you, no matter how much you find out in spoilers, you will always be shocked, because #PlotTwists that you definitely didn't see coming, also because no one warned you either.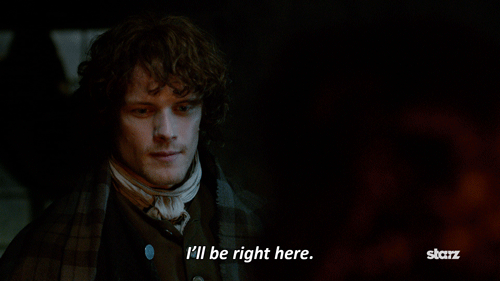 4. So many scenes of Jamie, shirtless. You get to see Jamie's body and butt…multiple times. I mean, do you honestly need any more of a reason to watch?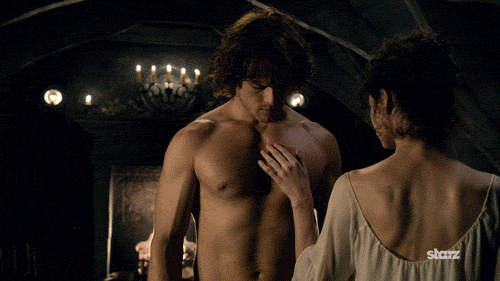 5. The rest of the characters are fascinating. You develop a connection to the characters, some good…some bad. You'll resent characters, possibly even contemplate murdering a few of the fictional characters, you'll fall in love with others, and you'll learn to admire the rest.
6. Author, Diana Gabaldon, is currently writing the 9th book. So, if you're a reader like me, while you binge-watch both seasons and then wait for the third season to come out, you can read the whole series to get your fix. If you read all 8 books that are out, that's roughly around 9,283 pages. *Swoon*
7. You will want to visit the Highlands sometime in your life. Your next dream vacation will be to Scotland. Besides the scenery being absolutely breathtaking, you'll learn that a lot of what happens in both the book and TV series, is based on true events and real people.
8. You learn a lot about the history of Scotland and surrounding countries. I'll have to admit, I've learned more about their history watching this show than I ever have in all the 16+ years I've been in school.
9. For people who like violence, sex, and historical drama, there's tons of that. This show is based around drinking, wars/battles/violence, "magic", true historical events, real historical figures, a couple of girl fights, and tons of hot sex. There are even jokes. Basically, there's something in it for everyone.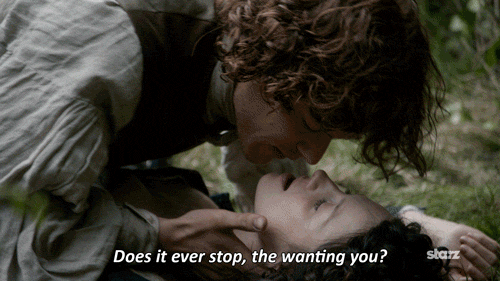 10. The script is so well written. The way that they speak is so raw and romantic, and no, you will never hear "sup girl", so that's always a plus. And it doesn't hurt that Scottish Gaelic has honestly some of the most beautiful words ever spoken.
11. The actors/actresses in this show are incredible. You'll understand more once you start watching, but the emotions they portray and the different roles they need to play within this show are beyond impressive. 12. You won't regret it. Trust me, this will be the best decision of your life, and I'll be accepting "thank you's" after this.
It will change your life.
Fun fact: The show
Outlander
first premiered 23 years after the author's 
first
novel was published.
The hardest part about watching this show is that when I ask people if they're fans of Outlander, they respond with, "What's that?" This show is so completely underestimated and more people need to be aware of this amazingly unorthodox show.
So, my little Sassenachs, grab a friend, turn the subtitles on (kudos if you can understand them without subtitles), fall in love with the Scottish Christian Grey, take a cold shower, and start binge-watching your next obsession. You're verra welcome.
Featured Image via screengrab from Outlander.