Master of None has silently tiptoed it's way onto Netflix and right into our hearts. From the funny portrayal of Dev (Aziz Anzari), to the adorable romance between Rachel (Noel Wells) and Dev, to the discussion of minority issues, this show is a chock-full of moments that speak straight to the college soul. After hours spent watching season one instead of writing my paper, I've taken the liberty of collecting 5 times you'll have no choice but to relate to Master of None:
1. When the guy at the bar tries to slip you a quick drink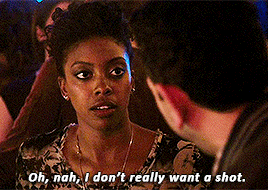 Every girl has been there. You're just chilling at the bar with your friends when all of a sudden there is a shot of tequila in front of you and a man handing you a lime wedge. All of a sudden you're hoping that you could just disappear into the floor and away from the raised eyebrows of tequila man.
2. When the dudes at the club just won't leave you alone
Contrary to the popular belief of some of our gentlemen friends, sometimes you just want to come out to dance your pants off. It's always the worst feeling in the world when someone is creeping up behind you and you keep having to do the awko taco side-step to keep your groove-thang going.
3. When you show up to class looking cute af

It is a rare day when you aren't throwing your hair up in a standard messy bun accompanied by your favorite leggings and ever comfy mug. You best believe that on the days that you managed to throw on your adorable sweater dress and curl your hair that you are going to treat those lecture hall aisles like your own personal runway. Get it girl!
4. When you and your girlfriends craft the perfect text to get out of that date you don't really want to go on


We've all been there. It's a day before that date that you reluctantly agreed to go on and you're just not feeling it. It's key that you strike the right balance between making sure they know you're out, but you also want them to not hate you…xoxo.
5. When your roommates are killing your vibe with their passive aggressive notes 
Listen. I know it's not the best look when you walk home and see my six dishes in the sink for the second day in a row. BUT, sometimes ya girl has three papers and two midterms she just has to get through first. Can I buy you delivery to make up for it?
Whether it's the sass of Dev or the realness of his friends, Master of None manages to capture the hearts of all those who watch it! Each episode is like it's own 30 minute mini-movie chock full of important social issues (like feminism and racism), family matters, or relationship drama. No matter how you slice it, there is something for everyone in this runaway hit. You can find it streaming on Netflix now!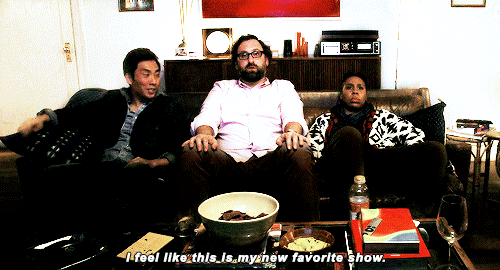 Featured image via Master of None on Instagram