I have done quite a few juice cleanses in my days, and have typically had satisfactory results. However, they can get to be a bit pricey if you buy bottled juices (available at most health food stores), but if you invest in a juicer, you will save yourself a ton of cash in the long run. I make sure to stock up on produce, and prepare an extra 3-5 juices in advance. Of course, there are some minor downsides (the biggest one being hunger…), but I have always come out of it feeling healthier and rejuvenated. Before you retire that silverware and commit to incessant sessions of straw slurping, here are some common thoughts you should prepare yourself for…
Day 1:
7:00 AM – Man, I forgot to get breakfast before I left for work…maybe I can go buy coffee and a muffin…
7:15 AM – Wait…no, I'm doing that juice cleanse today. I can wait until lunch.
7:17 AM – No, I can't wait.
7:45 AM – An odwalla juice counts right?
8:30 AM – Damn, I'm hungry again…
9:45 AM – Does this protein shake count?
10:00 AM – It counts. It has to count.
10:01 AM – This is vile, I give up.
12:00 PM – A kale smoothie without added sweetener counts, right? At least until I get home?
4:45 PM – DINNER TIME. PRAISE THE LORD.
4:47 PM – Man…I just loooove celery and cucumber juice.
7:59 PM – *Knock knock* "Who's there?" "It's me, your good friend Hunger, back again!"
Day 2:
8:00 AM – Why the hell do I have a headache? I didn't drink last night…Ouch. I'll just lay in bed all day.
8:30 AM – Maybe my boyfriend can make me breakfast…
8:31 AM – Wait, juice. Right. Maybe my boyfriend can make me juice.
9:00 AM – Nope, I'll be making the juice from now on. It's kinda gross.
9:30 AM – I almost wish I had work today, so I wouldn't be tempted to eat normal food.
11:13 AM – I think I have some leftover cake in the fridge…
11:15 AM – Nobody will know. No one is home.
11:17 AM – No, no, no. Think thin.
12:00 PM – Carrot juice is my beeessssttt friend…
3:00 PM – Apple and cucumber juice actually sounds appealing right now…what is happening with my body?!
7:42 PM – Note to self: Spinach does NOT make for a successful juice…
Day 3:
7:04 AM – NO. I JUST WANT PANCAKES.
7:07 AM – Fine. I'll drink this juice. Can I have pancakes tomorrow?
8:49 AM – Can I have some of that chocolate protein shake from day 1?
10:17 AM – Is it lunch time yet? There's a cucumber, beet, apple juice waiting, calling my name.
12:12 PM – Praise. Juice, come to mama.
3:36 PM – If I chew gum, maybe I'll trick my body into thinking that I'm actually eating…man, I've missed chewing…
5:03 PM – My boyfriend is eating mac and cheese….and I'm just drinking this juice…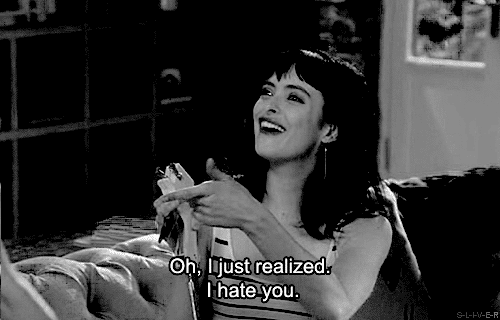 7:56 PM – It's almost tomorrow. If I eat normal food now, it doesn't really count, right?
7:57 PM – My boyfriend says no. Dang it.
11:23 PM – WHEN I WAKE UP TOMORROW, I CAN EAT NORMAL FOOD. PRAISE THE LORD.
Overall verdict – I lost 4 pounds. I had more energy by the time I got to day 3. But man, did I miss sandwiches and the wonderful pleasure that comes with chewing them.
Featured Image via screengrab from Ellen Wroe: The Juice Cleanse.