There are many shows that came out decades ago that, that no matter how old they've become, we still appreciate as a product of its time. I remember growing up and staying at my dad's house as he would watch "The Honeymooners" marathons for hours, wondering why a husband would say "Bang, Zoom, to the moon!" and casually joking around about hitting his own wife. Clearly, as a woman who grew up in a different time than when "The Honeymooners" was airing new episodes on TV, it was a bit weird for me. But, it didn't change the fact that I enjoyed the hilarious plotlines and story behind the TV show–I wasn't going to be super offended by a show that came out, in the '50s.
As decades progress, there are societal changes and strides we make to understand and accept situations regularly. But, when you look back in time, not everything was normalized. It's no one's fault, it is just the way in which society progresses. So, can we be angry at a TV show for being a product of its own time? Apparently, Millennials believe they can.
Recently, Netflix gained the honor of airing the hit '90s sitcom "Friends" on their streaming service. For many, "Friends" is nostalgic and brilliant, taking us back to a much simpler time where friends could sit around and have fun, hilarious nights playing trivia about each other, instead of scrolling on Twitter for hours while sitting in the same room. Or, the simpler times of actually going on a blind date, or meeting someone randomly in the street, rather than stalking them online and knowing every little detail about them–you know, spontaneity. But, for some Millennials who are watching the sitcom for the first time, they're outraged and offended by the storylines in place.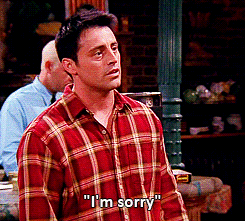 Earlier in January, "Friends" came out in the U.K. on Netflix, and many who haven't seen the American sitcom began binge-watching it on their streaming services, as it's one of the most "memeable" and talked about shows of the'90s. But, after seeing the TV show for what it is, and seeing it with naked eyes, people were actually offended by some of the jokes made in the show.
Even those who were fans of "Friends" in the '90s aren't that into it in 2018.
https://twitter.com/k_a_dunn/status/948995202580180992
Friends is now on Netflix – but does the show's handling of race, gender, and sexuality stand the test of time? @Czaroline https://t.co/6dLdjjsaLP pic.twitter.com/I4ulimSv89

— The Pool (@thepooluk) January 2, 2018
This is your reminder that Friends was a shitty show and anyone who tries to defend its homophobia with "it was the times" can fuck right off.

— Plutoburns (@Plutoburns) January 12, 2018
While I understand people's opinions and realize that, just like how I felt watching "The Honeymooners," Millennials may not understand that there was a time in society in which this was accepted and understood–people need to recognize that some TV shows just are a product of their time. The '90s was a time in TV and entertainment where the LGBTQ storylines were coming to light, it was a new area of exploration in characters on TV. Am I saying it's okay that "Friends" was homophobic or sexist? No, absolutely not. But, does it make me completely hate the show, the jokes, the characters and the storyline? No. I'm open-minded enough to know that looking back, the fact that we can recognize the homophobia or the inappropriate plots/storylines shows that we're progressing in the right way as a society. If "Friends" were set in 2018, none of those jokes/situations would be accepted–and people should be glad media has transformed with society and the times.
Amen.
Originally published on PizzaBottle
Featured image via Friends