Whether good or bad, our family is our family. The old saying goes "one can pick their friends, but they can't pick their family." Well, the cast of Jersey Shore: Family Vacation took the "friends" picked for them in season one and turned them into family. When the cast reunited this year to film Family Vacation, fans all over the country (including me) fist pumped so hard for this reunion. Even though they had been gone from our screens for a little over five years, it felt like an eternity.
Through thick or thin, they have remained a tight (and incestuous) family unit. The love and respect (most of the time) they have for each other is the same in many "traditional" family models. The only difference between us and them is that they are filmed for television and their antics allow us to take a look in the mirror and see how we treat our friends and family.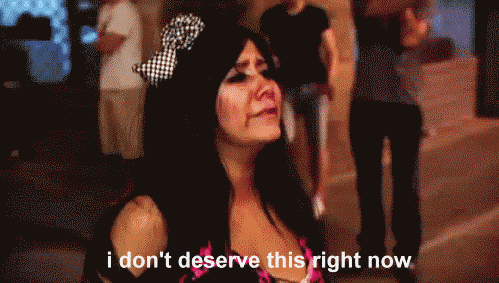 This season the cast has taught us many lessons, if we asked for them or not. Here's a couple.
1) Don't Abandon Your Family (even if they're toxic)
One of the biggest surprises to happen this season on Jersey Shore: Family Vacation was the return of the Staten Island Dumpster, a.k.a. Angelina Pivarnik. When we last saw Angelina, the year was 2010 and she once again left halfway through filming in Miami because she could no longer handle the drama with the rest of her cast members. Yes, Angelina has done a couple of other reality television show appearances, but she never had real closure with the group. Furthermore, she's been quoted (and tweeted) over the years making disparaging remarks about her former cast members, many of which the others did not take kindly to.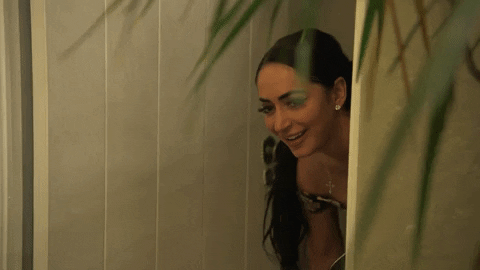 Flash forward to the current iteration of the show when Pauly D decides to prank the cast and bring back Angelina. Angelina was a toxic human being who found fault with everything during her previous two stays, so the fans (and cast) were in for a real surprise when she showed up. Of course the initial reactions from Snooki and JWoww were what we expected, but it all turned around for Angelina. Eventually the girls came around and make attempts to play nice and welcome her with half opened arms.
In the end, the cast decided that this former toxic human being was still a part of their family, but they needed to engage with her outside of the experience of filming the show. Whether the cast and Angelina work to make amends and build that familial relationship with one another is yet to be seen, but it provides hope.
The takeaway from this situation is that we can always find a way to make amends with our family members. It may take time, maturity, soul searching, etc., but everyone is redeemable (for the most part). We may write someone off on one page, but there is plenty left to be written for the future.
2) Find Your Spiral Buddy or Meatball
The most iconic friendship in the Shore house is the one between my two favorite meatballs, Snooki & Deena. While Snooki and Deena may be married and the former having two kids of her own, when they get together, magic happens. Their friendship is genuine and they share a real love for one another.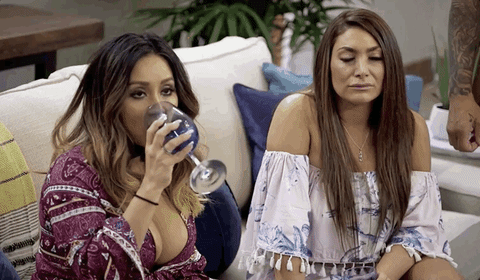 Long lasting friendships are hard to come by, especially as an adult, so cherish the ones you already have. Get completely trashed with them, embarrass yourself, and remember that they will NEVER judge you. You need to have a true ride or die in your life. If not, there's a small part of you that may not feel complete.
Concurrently, the same thing goes for finding a spiral buddy, or spiral "twin" as Ronnie and Snooki call each other. While Ronnie's behavior becomes increasingly concerning over the course of the season, the friendship that the two have stems from that brother/sister bond. Regardless of what happened between Ronnie & Sammi, Snooki does her best to be there for her friend. Breakups are hard on your friends, especially long term relationships when you may feel forced to take a side.
Do your best to be objective and unbiased towards your friends. They rely on you, count on you and you can sometimes be the one to pull them out from their downward spiral.
3) You Can't Drink Two Bottles of Vodka on the Keto Diet
This one is pretty self-explanatory. Vinny, now referring to himself as the "Keto Guido", has shown us this season that his ketogenic diet has a direct correlation to his alcohol intake. As much as Vinny talked about Deena being a mess in the club, we've seen the Keto Guido have his fair share of stumbles.
Life lesson: make sure you eat before you go out for a night of drinking!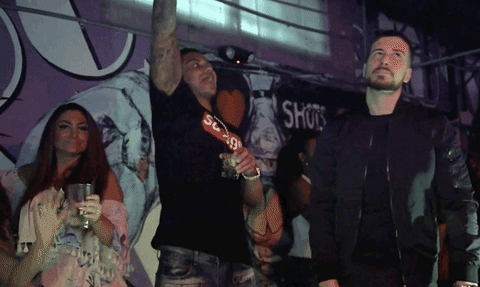 4) Use Protection
This goes without saying, but if you don't want to be a parent, make sure you're taking proactive measures to prevent unwanted or unplanned pregnancies. For a network that does a great job at having Public Service Announcements before, during and after Teen Mom, I feel like MTV dropped the ball here.
Every situation is of course different, but let's look at Pauly D and Ronnie. Pauly D had a one night stand with some chick and now he has a child from that interaction. Is Pauly D a good father? I'm sure, but he would probably like to not have that responsibility.
On the other hand, we have Ronnie, who is tempted by a good looking woman. He met his current baby mama and after under a year together they're expecting a child and he's over here crying about Sammi still. I mean please. As his baby mama stated, "You can't turn a cokehead into a father."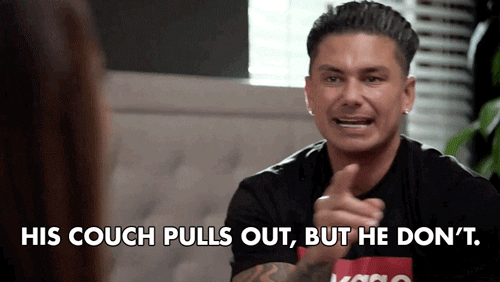 To sum it up, wrap it before you tap it, and think twice about that next sexual escapade if you're not trying to be a parent anytime soon.
These lessons may seem simple, but they're effective. The cast of the Jersey Shore feels like our extended family and they have taught us so many things over the years from "smushing" to doing the "Jersey Turnpike" and the importance of GTL. Never change guys!
You can catch the finale of Jersey Shore: Family Vacation this Thursday at 8 pm on MTV!