Get a group of celebrities together and there's sure to be fashion statements, fashion goals, and political statements. The yearly Golden Globes are no different, often the red carpet can be more entertaining than the ceremony- especially if you're in to fashion!
Here are the 2019 worst, best, and statement making in Golden Globe red carpet fashion!

I'll start with worst dressed, because we can only go up from there. They are celebrities, so they aren't wearing absolute trash! However there were a few cringe worthy outfits.
Worst Dressed
Lucy Lu, how I love you. This dress, however, looks like my baby and my toddler's science project that they proceeded to vomit up.
Debra Messenger can make a fierce face, but her dress ruins it. It reminds me of an ostrich… or a robe made of Honey Boo-Boo's feather boas.

Maybe Melissa is nodding to the remake of Sabrina The Teenage Witch? That's my only theory of why she chose to wear this.

Best Dressed

Constance Wu was sheer perfection in her nude tulle dress. Sexy, delicate, and everything in between.
Kiki Layne was also stunning in this nude, tulle dress, proving you can never have too much tulle if worn correctly.

Statement-Making
The winner of this year's big statements was undeniably Lady Gaga in her elegant baby blue dress, which paid tribute to Miss Judy Garland (the rimless actress from the original "A Star Is Born").

This time last year, everyone mentioned the overwhelming amount of black attire on the red carpet, which celebrities wore in solidarity to stand up against sexual assault. It was called the Times Up movement. While there was far less black this year, celebrities still voiced their options with simple statements.
Amber heard added a black, silk bracelet with the words "Times UpX2" seen clearly.
The beautiful Rachel Brosnahan paired her lovely yellow dress with a silk white ribbon, delicately showing her support.
Laura Dern kept her ribbon long and tied it to her gold clutch.

Gina Rodriquez donned a white ribbon on the back of her baby blue goddess dress, and it was adorable.
Ryan Seacrest spoke out, highlighting an issue that isn't just about the women.
Honorable Mentions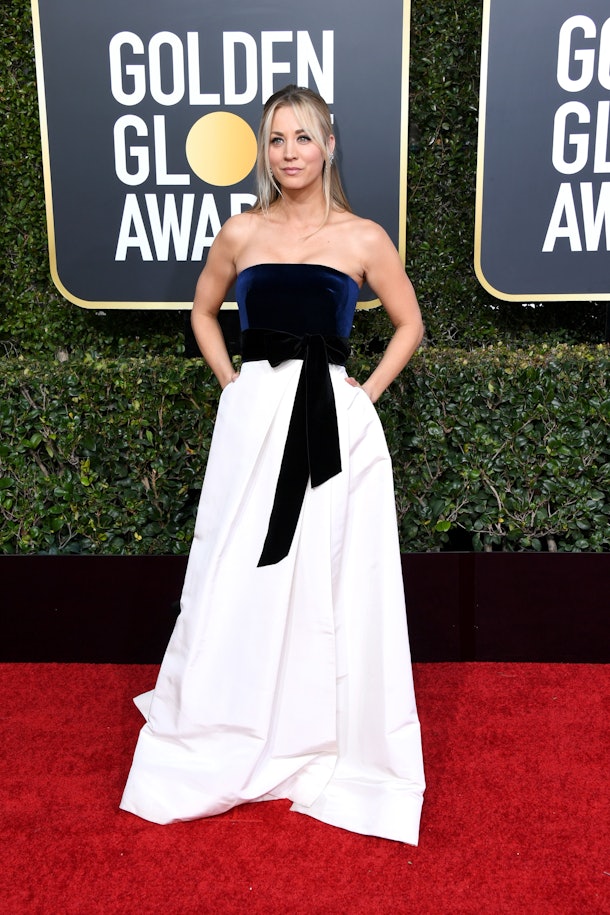 "The Big Bang Theory's" Kaley Cuoco appeared a mini Jennifer Aniston… and twitter went crazy! #twinning
(Also, her dress has pockets and I want it!)
And then there was the unlikely female to steal the show: The Fiji Water girl! Photo bomb goals in every way!
What was your favorite red carpet outfit last night at the Golden Globes? Which awards were you most disappointed about? What are your overall thoughts? Share with us in the comments!
Feature Image via Evening Standard on Instagram