Oh, Kanye… or is it 'Ye' now? As usual, he's dramatic. He's feuding and confusing always – so, I have taken it upon myself to weed through the feuds and make sense of the confusion, meaning you can get your pop culture fix, without the headache.
A few weeks back, fans began speculating the "Kiki" in Drake's incredibly popular song "In My Feelings" is referring to Kim Kardashian West.
Kim has referred to herself as "Kiki", so it's not the craziest assumption. Twitter users theorize Drake and Kim have hooked up in the past, and this is Drake's way of outing it, without actually outing it. Kim West has denied, declaring, "Never happened. End of story." Drake however has remained silent and that silence has bothered Kanye.
To further the rumors, Kim's ex Nick Cannon and  DJ Akademiks discussed the alleged hookup in a video on the gossip website "The Shade Room."
"As a fan, stepping back, there's something real personal Drake holds over that whole family, that he's like, 'Y'all don't want me to let this out,'" Cannon said.
Once the video went live, Kanye – I mean, Ye – released some videos of his own. In his usual ranting style Ye claimed the men needed to keep his wife's name out of their mouths, declaring that it just "wasn't sitting right with him."
Ye addressed Nick Cannon saying, "Like, I understand that you used to date my wife, but you get in an interview, don't mention my wife." He went on to suggest, "If someone brings my wife up, you say, 'Hey, I respect that man, I'm not speaking on that.' Don't be making no suggestions, like nobody f*cked my wife."
Because, of course, this is all about respecting Kanye himself, not his wife per se.
The drama continued with mudslinging continuing between the men. Yet, still radio silence regarding who "Kiki" really is.
As if that wasn't enough already, Ye started even more drama last week.
Saturday night was the season premier of "Saturday Night Live," and Ye was the featured musical guest. The cameras shut off after his final performance of the evening, but Kanye decided it was a perfect opportunity to lecture the audience members on his pro-Trump beliefs. To everyone's surprise, he invited the cast members on to stage. So, they had to awkwardly stand around while he went off on his unexpected rant.
Cast member Kean Thompson, who knew better than to join in with Kanye on stage, explained it all on "The Late Late Show with Seth Myers."
"He voiced his opinion, very loudly, for a long time." Thompson went on the say, "We're all entitled to our opinion, but you know, I don't know if that's the moment, necessarily, to hold people hostage like that — but hey."
Many SNL fans and cast members were left with bad tastes in their mouths.
… Which brings us to Sunday, Ye, his MAGA hat, and the 13th Amendment.
Sunday morning, Kanye tweeted a picture of himself in his red hat and a controversial caption, "[T]his represents good and America becoming whole again. We will no longer outsource to other countries. [We] build factories here in America and create jobs. We will provide jobs for all who are free from prisons as we abolish the 13th Amendment. Message sent with love."
Many were quick to point out that the 13th Amendment is actually known for abolishing slavery:
There's nothing more maddening than debating someone who doesn't know history, doesn't read books, and frames their myopia as virtue. The level of unapologetic conjecture I've encountered lately isn't just frustrating, it's retrogressive, unprecedented and absolutely terrifying. https://t.co/4jCFwB4T5U

— Chris Evans (@ChrisEvans) September 30, 2018
The 13th ammendment abolished slavery. Re-upping this from the last time: @ye is truly an idiot. Message sent with distaste for idiocy. https://t.co/d0BNi45Zm8

— Soledad O'Brien (@soledadobrien) September 30, 2018
Lanadel Ray also took the opportunity to beautifully share her feelings on Kanye and his support for the President.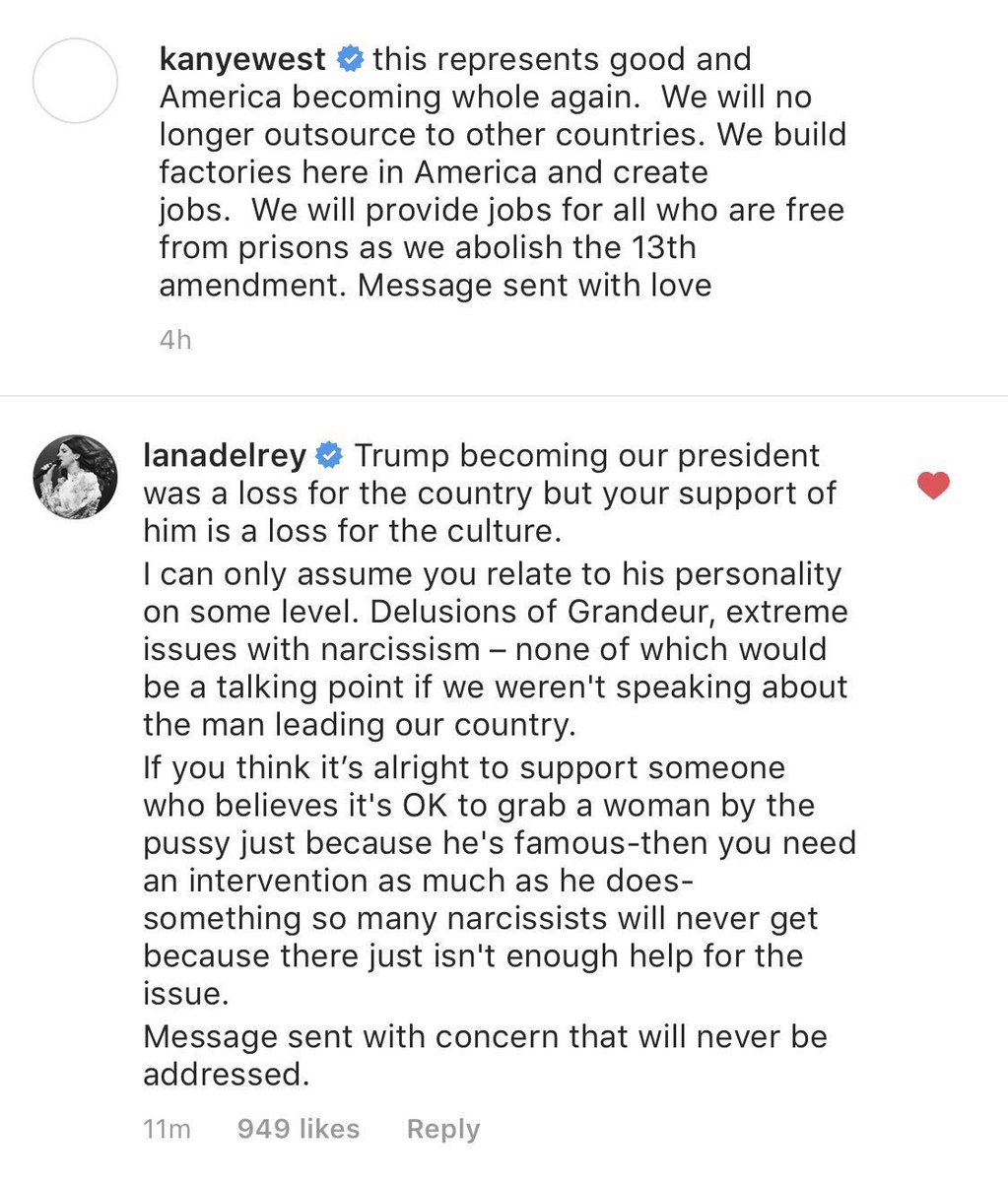 The backlash has caused Ye to publicly explain himself, claiming he meant to suggest we "amend" the amendment. He says that, essentially, the 13th Amendment is basically "slavery in disguise."
That explanation makes a little more sense than abolishing the 13th Amendment all together. It is possible that Kanye was confused, or maybe it was twitter itself that helped him make the clarification. Either way, he needs to do a tad more research before pushing an agenda, in my opinion.
So, in case you missed it, you now should be caught up on all Kanye's been up to. From Kiki to the 13th Amendment, Ye and his ramblings didn't disappoint. Does he leave us feelig confused? Slightly. But disappoint us? No.
Feature Image by @kanyedoingthings via Instagram