The CW announced that their hit show Riverdale had been renewed for a third season, and will premiere on October 10, 2018. In the mean time, the entire cast has been making appearances during Comic-Con over the past few days and are unveiling some news about the highly-anticipated third season.
In addition, the fantastic producers have already created an intense teaser for the upcoming events in the town of Riverdale and it brings us a lot of questions.
Based on the trailer and the cast/crew panel at Comic-Con in San Diego, here is what we know will happen in season three of Riverdale.
1. The First Episode Will Feature Archie in Court
In late June, showrunner Roberto Aguirre-Sacasa, shared the title of the season three premiere, "Labor Day," with a picture of comic-version Archie in court. However, in the teaser the four main stars spend Labor Day at the lake. So my serpent-loving senses indicate that he won't be in jail for long, or a different court date will be made later in the season.
And so Season 3 of #Riverdale begins! Thrilled & honored to get to tell more stories w/this incredible cast & crew! pic.twitter.com/6B47Ohodau

— RobertoAguirreSacasa (@WriterRAS) June 27, 2018
2. Toni and Reggie Will Become Series Regulars
Aguirre-Sacasa also announced that both characters have become breakout fan-favourites and he's basically giving the people what they want. Toni's storyline with Jughead and her budding romance with Cheryl have made her quite popular, whereas Reggie's relationship with Hiram has caused some drama that we can't turn away from. 
3. The Jones Family Are Coming Home
During their Comic-Con panel Aguirre-Sacasa confirmed Gladys and Jellybean Jones (Jughead's mom and sister) are coming back to Riverdale. He even indicated it will happen around episode eight or nine. So what will this mean for Alice and FP's past fling resurfacing?
4. We Finally See Polly's Farm
At the end of season two Polly told her mom she would introduce her to someone who healed her. And based on the teaser, we get a glimpse at something happening there; particularly where Alice and Polly are dangling the twins over a burning fire! *gasp* This makes me believe even more that this is a cult farm. Plus the cast hinted at some heated confrontation between Alice and Polly ganging up on Betty.
5. Archie's New Nemesis
At Comic-Con it was revealed Penelope Ann Miller will play Ms. Wright, the district attorney Archie will deal with after being framed for murder by Hiram. They said she "we will weave together disparate moments of Archie's young life to portray him as a dangerous, violent sociopath who is capable of committing a heinous crime."
6. There Will be Another Musical Episode
The cast confirmed the news during their panel, and said the success of the Carrie: The Musical episode inspired another to be created.
7. Love Isn't Necessarily In the Air
Lili Reinhardt shared at Comic-Con that Bughead are in a "good place" at the beginning of the season, saying, "they start off season 3 as the investigative duo that they were in season one." There's something about that quote that makes me feel they will have some issues. Camila Mendes also hinted that Varchie will hit a rough patch this season (I mean, how couldn't they have after all the medling the Lodge family has done?)
8. A FlashBack Episode May Happen
After playing coy, the cast and creator hinted that a flashback episode might occur where all of the parents on the show are kids again so the viewers can see how their relationships were back in the day and what caused them to change. This could be one of the most insightful episodes yet in terms of developing the storylines and giving us the history that is still semi-unclear.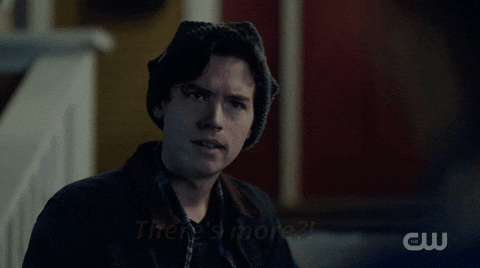 9. The Hot Riverdale Dads Are Back
Kevin said it best last season when FP Jones, Fred Andrews and Tom Keller joined forces to protect the kids and the town. Not much information was given aside from the fact you'll see more of this threesome, so it looks like they'll be battling against Hiram.
10. They'll Be Focusing on Highschool Stuff
Because of the mature nature fans often forget these kids are in high school, so Aguirre-Sacasa confirmed this season they will put more of a focus on high school things such as SAT's and applying for College. Does this mean the show may be ending after this season!? Aren't they only in grade 11!? I'm so panicked and confused!
All in all this panel, much like the show, did not disappoint. There will definitely be a lot of ups and downs and I'm excited to see what is going to happen within the introduction of new characters, relationships between everybody and still trying to figure out who the other half of the black hood could be (you know, since they kind of swept that under the rug). October 10th can't come fast enough!
Riverdale returns Wednesday, Oct. 10, at 8 p.m. ET on the CW.
Featured image via The CW Riverdale