Sushi has become a trending food, with restaurants around every corner. But we all have that one friend that hates raw fish or just the idea of any fish at all. For International Sushi Day, there's no better way to celebrate than with 6 easy recipes that could please any party guest.
For The Regular Sushi Lover, With A Cute Little Twist
Sushi Cupcakes
You can really make these as simple or complicated as possible. You can take some salmon, avocado, sauce, and slap them on a little cupcake block of rice and call it a day! Or you can get crafty and throw layers of tuna in the middle of it. You can add some sesame seeds to the top if you feel fancy. These are perfect of those of you who would love to serve some sushi but not take the time to learn how to roll sushi. I'm in. Check out the recipe used in the image above here.
The Health Conscious – Keto Friendly Eater
California Cauliflower Roll
This is a simple roll and if you follow the recipe exactly, you will have a roll with net carbs at 4.23g (meaning 4.23g are what is left when you take out the carbs that come from fiber). They are keto friendly and decently healthy. Check it out here.
The Fish Lover But The Rice Hater
Mashed Potato Sushi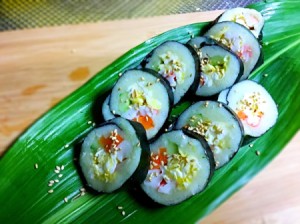 If you are looking for a roll without rice but still love fish, try making a regular roll. Replace it with cauliflower, cucumber, leave it out completely or you can even use mashed potatoes. Check out the mash potato sushi here (You can leave out the wasabi, I know that is a hit or miss food for most people).
For The One That Just Refuses To Try Sushi
BBQ Bacon Sushi Roll
They are for those of us that are unapologetically carnivores. Made with beef, cheese, bacon, BBQ sauce, and these will be delicious meatloaf bites if nothing else. Top it with the American-dad chip of choice. You could try tortillas, fried onions, crushed Doritos… the options are endless with this one. Check out the recipe here.
The Guy That Just Wants Some Regular Sushi
Spicy Tuna Roll
This simple recipe can have your sushi on the table in less than 30 minutes, and most of that time accounted for is cooking the rice. A tuna roll, or a California roll, are usually a safe bet when creating a menu for others. Check it out here.
The Dessert Lover
S'mores Sushi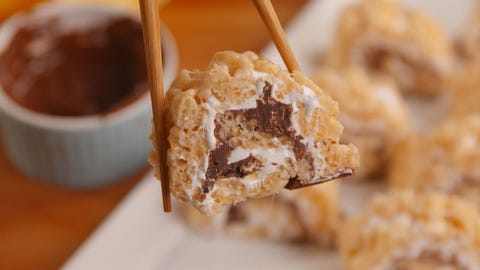 Let's be honest, There is nothing about this that is really sushi but you can eat it with chopsticks and it's delicious, so it is worth being on the list. This is the perfect dessert option for a sushi meal. Not to mention, everyone loves a chocolate dipping sauce. The recipe can be found here.
There are so many great sushi recipes out there. There is sushi for every personality and every taste bud. You can stay at home and celebrate by trying a new recipe or hosting a great sushi party. If hosting a party, you would be able to please everyone with one of these options. Hey, you could have a one person party with all of them as well. When will you have a more acceptable time to shove 6 sushi rolls in your mouth than on International Sushi Day?
Featured Image via Pexels