Emma Watson graces the cover of Vogue UK's September issue – baring it all. The actress, style icon and United Nations Goodwill Ambassador (hello superhero), goes without any makeup, a reminder that true beauty doesn't need to be bought.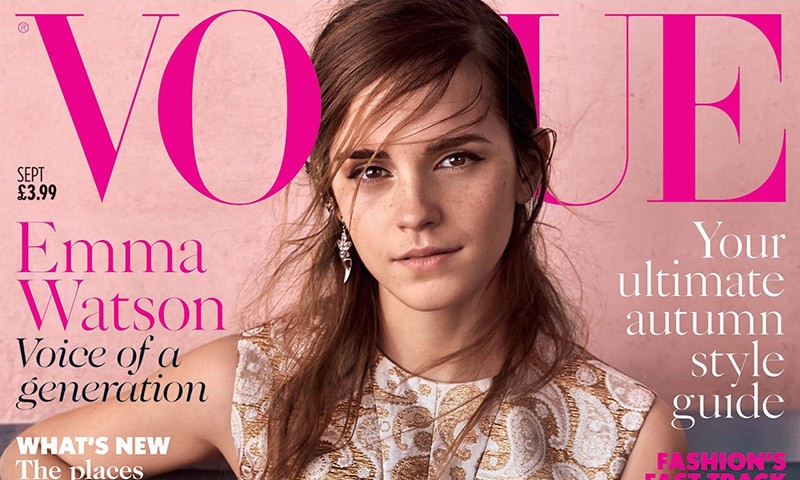 The cover inspires me personally, as someone who doesn't wear makeup. Though I love to dress up and look my best, the idea of a daily beauty routine never felt right for me. Throughout high school and college, that feeling of being different always troubled me, making me feel like almost less of a woman.
Called "Voice of a Generation" on the cover, Watson seeks to challenge these norms within the beauty industry through her HeforShe Campaign, launched last September with the United Nations. Her impassioned speech, a global call for men and women to work together for equality, went viral and began her new role as gender crusader.
"I want to get this conversation happening specifically in the fashion industry to tell the leading voices about gender equality," Watson tells Vogue.
She puts her goals into practice in a video for Vogue's video channel, where she begins this dialogue with top designers in the industry, including Jonathan Saunders, Bella Freud, Erdem Moralioglu, and Stella McCartney.
Watson doesn't play it safe in the interview, asking, "What are the biggest challenges facing women in fashion today?" and "What part can the fashion industry play in addressing gender inequality?"
McCartney stands up for women around the globe who may feel excluded by the fashion industry, saying, "We need to give a better message to women of all ages, all sizes and all nationalities. We need to allow women to feel comfortable in who they are."
Personally, Watson is my role model for her bravery and strength in standing up for what she believes in. Though she is clearly making big moves within the fashion industry, she is equally important in small ways – like showing it's okay to not wear makeup.
Featured Image via Tumblr.