When it comes to Chipotle, people don't mess around. Whether it's standing in line before the doors even open (because whoever voted that it opens at 11am is an asshole) or making sure to pre-order and beat the rush, college kids alike will do whatever it takes to get their hands on GMO-free find. But one man took it up a notch when he decided to eat at Chipotle every day for 106 days. Yes, you read that correctly.
The man that's living our college-aged dream is Mark Rantal, and this 30-year-old from Colorado Springs who isn't stopping anytime soon. So far he's spent almost $730 on Chipotle, if my fifth grade math is correct. But this dedicated diner does get comped ten or so meals, according to ABC News.
Although it sounds crazy, and Rantal completely acknowledges that, you really have to admire his dedication. I would gladly eat the Mexican meal every day for even longer if I had the money, so why judge this man? I find only one fluke in his master plan – he gets the same exact thing every time. A burrito bowl with white rice, pinto beans, fajitas, sofritas, mild salsa, corn, medium salsa, cheese, and lettuce. For the love of God, switch it up!
Rantal says that he just happened to fall into the challenge by coincidence. And honestly, a lot of us probably can remember a time that we've done the same. Minus the whole 106 days later thing.
"The whole thing was totally an accident. On Monday I decided to get Chipotle and on Tuesday I made the same decision, then got lunch with my friend there on Wednesday," Rantal told ABC News. "We laughed about it at lunch and he asked how long I thought I could go. And that began the thought."
All in all, I think this whole thing is a little romantic. Not only is the guy magically staying skinny (take that, Subway), but he's keeping a positive attitude, and making his dreams a reality. According to ABC, Rantal is close to the staff and isn't letting anything get in the way of his dreams. If only I had the time and money to put into it, I'd be right there with him!
Yes, it's crazy. And yes, we probably won't do the same any time soon. But instead of shaming this man, we should be taking pointers from him. Not only is he dedicated to what he does, but he's found a passion that others cannot deny. You go, Mark Rantal. Keep continuing to make us college kids proud!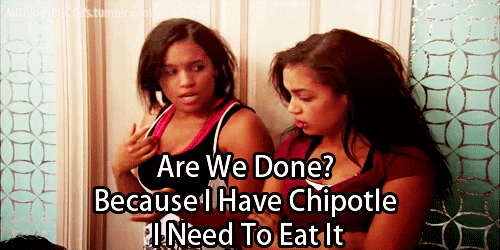 Featured Image via ABC News.